On our journey to homeschooling we continue to think long and hard about what and how to teach our two boys asking questions like "Who are they?" "How do they learn?" "What do we want for them?"
Time and time again we come back to hoping our children are happy and kind. We want them to be secure in who they are and in where they are heading in life. We want them to be present.
Our boys are boys, though, and are intense and energetic. We can already see our 3.5 year old is a very serious person and he carries the weight of the world on his shoulders. So, how can we help him manage this natural (and wonderful) part of who he is?
Our answer is to integrate more "mindfulness" practices in our daily life. So far we've introduced yoga for kids via the The ABCs of Yoga for Kids Learning Cards
. This activity has noticeably changed (or shall I say calmed) our boys. They are focused and enjoy moving their bodies. I have also discovered amazing and profound books from which, although written for children, many adults can learn. Here is a short list, enjoy.
What Does It Mean to be Present?
A Handful of Quiet: Happiness in Four Pebbles
My goal is to have informal yoga and peaceful story times several times a week. I believe strongly that by integrating these practices and reading into our lives, our children and ultimately our whole family will benefit.
Thanks for stopping by! I hope we inspired you today!
Marnie
This post contains affiliate links.
I shared this post on: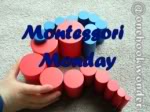 Marnie began Carrots Are Orange in 2010 after the birth of her first son. Carrots Are Orange is a Montessori inspired homeschooling blog for parents and educators. She hails from Maine, a wonderfully down to earth place to grow up. Marnie moved to the west coast in 1999, currently living in Seattle with her husband and two young boys. She is pursuing Montessori certification.
Latest posts by Marnie Craycroft (see all)