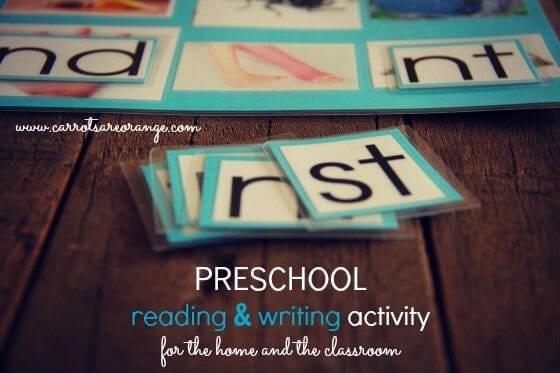 You have a budding, brilliant reader. She is eager to learn. She wants more. You don't have more. That is where I come in…This Consonant Digraph Activity: Blends work is one of my three original Language works I created for my Montessori training. To create the cards, I used blue card stock (blue level work), my printer, image files, blend files, a paper cutter and a laminator. I also have a small plastic bag to hold the small digraph cards. My files are included at the end of this post. I ask you to please use them only for personal purposes.
[Tweet "Consonant Digraph Activity: Blends"]
Consonant Digraph Activity: Blends
Material
A card with nine images representing three different blend sounds. Small digraphs cards.  A basket or tray.
Work Surface
Rug
PURPOSE
To increase awareness and skill in reading and writing Blue Level Digraph words.
PREREQUISITES
Knowledge of previous digraph materials and short vowel word building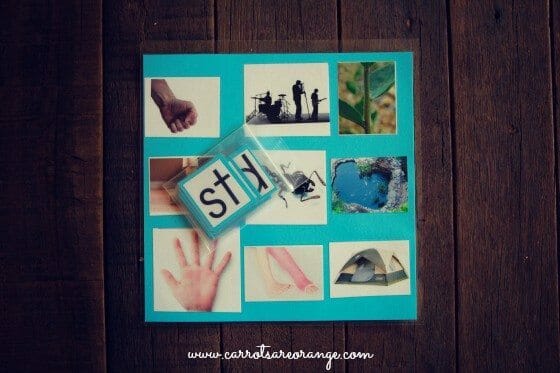 PRESENTATION
Invite the child to do the work: "I am going to show you something new with blend sounds!"
Bring the basket or tray with the materials to the work rug.
Remove one card and you or the child name the images on the card: "bread. crayon. creek…."
Remove the digraph cards from the small bag and review the blended sounds with the child: /br/
Slowly scan the card of images until you find a match. Repeat the name of the image with emphasis on the blended sound and place the digraph card onto the image of "bread", for example, repeating the digraph /br/.
Remove each card from the bag and repeat the same procedure. Allow the child to take over at any point.
If the child has incorrectly collected an object not matching the sound on the card, review the image name and digraph.
If the child would like to continue with another card, show him the next card.
Ask the child to place the cards back onto the tray or into the basket. Return to shelf.
EXTENSIONS/VARIATIONS
With a partner
Trace digraphs
Build words with moveable alphabet
Write words of images
Create a design with a metal inset and write the digraph in the center
With a partner, play Bingo. Roll a DIY die with blends on each side and place the small digraph cards.
POINTS OF INTEREST
New vocabulary and sounds
Images
CONTROL OF ERROR
The number of small digraphs cards match the number of images on the card
LANGUAGE
Names of images, 3 period lesson for any image/sound the child incorrectly identifies, digraphs
Age
4.5-6 years old
AIMS/GOALS
Order, concentration, independence, confidence, matching, analysis of sounds, build vocabulary, reading, writing and spelling digraphs
FREE PRINTABLES*
For More Blue Series Materials, visit my Teachers Pay Teachers store!
Happy learning!
Marnie