Number rods are one of the first lessons in the Montessori Math sequence within Introduction to Numeration. Relatively inexpensive, this material will be well loved with a variety of variations and extensions. I purchased my Number Rods from Montessori Outlet for a reasonable price. You can also buy Montessori Number Rods
 on Amazon (affiliate link).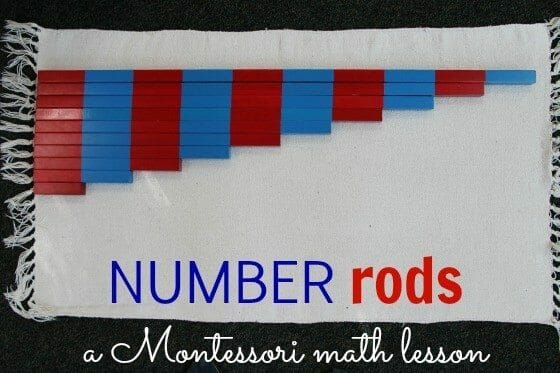 Invite the child to do the work. Point out that a large mat is needed for the work.
Presentation I
Carry the one, two and three rods to the mat, one at a time; carry horizontally with the index finger and third finger of each hand supporting either edge of the rod.
Place the three rods randomly on the upper part of the mat
Sit next to the child, isolate the one and two rod directly in front of me
Give the three period lesson: "This is…" touch the one rod: "Let's count it…" touch the segment and stroke it lengthwise as you say its name.
Repeat with rod one and two
Use a lot of repetition with 3 period lesson, I Spy and What's Missing?
Mix rods and repeat questions as much as needed
Once the child is comfortable with the one and two rod, introduce the three rod using the same pattern approach
Construct the stair at the top left of the mat with the one rod on the bottom and move onto the four and five rod.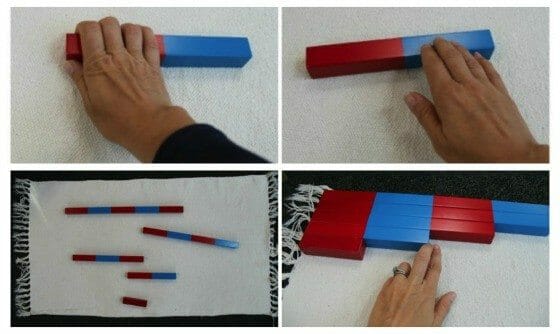 Presentation II
Continue presenting two rods at a time until the child can identify and count  all the rods. Review each time I introduce a new set.
When the child can comfortably name them all, mix them up and invite her to count them and rebuild the stair.
Carry the rods back to the shelf, beginning with the long one and lining them up with the red segment on the left.
Variations
Count around the triangle formed by the stair
Fetch game
Greater than/less than
Challenge child to find two rods that match the length of a third rod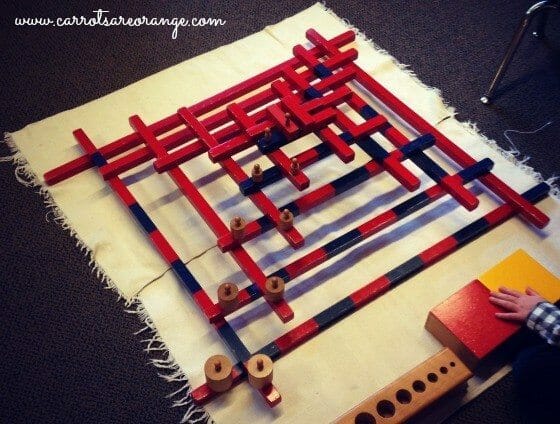 Extensions
Match number of objects to number of segments
Create own number rods using other materials such as unifix cubes or paper rectangles
Use rods to measure things around classroom
Use with red rods to make a pyramid
Resources
Enjoy!
Marnie
Get the Weekly eNews!
Join over 15,000 parents & educators receiving a weekly dose of Montessori learning, inspiration, parenting love. I promise not to spam you because I am awesome (and clearly so are YOU).