I know, shocker, my two year old is obsessed with dinosaurs. I am going with it. The greatest thing about this obsession he shares with so many other young children is that the plethora of resources on activities that exists in cyberspace is amazing, I mean, like, Wow. So, I've been inspired by my son and by the robust amount of creative dinosaur activities in existence. I hope to inspire some of you with my own flavor.
I created a BUTTERFLY UNIT recently and had a blast. Perhaps the best part about writing up these lessons so far is that the "lesson" is truly organic. For example, we play with dinosaurs every day but today was different. My son started to sort by those dinosaurs that eat plants versus those that eat meat, those that live in water versus those that live on land, etc. He also wouldn't put down Melissa & Doug's four mini puzzle set until every last piece was in place. So this organic learning is by far my biggest motivation to put some structure around his genuine interest, an interest that I don't think will go away any day/month/year soon.
So thanks for reading. Here I give you "Riding the Dinosaur Train"
Science, Sensory AND Practical Life – "REAL LIFE" FOSSILS!! I am so, so excited about this activity. I learned about many approaches to this activity on a great little site called Perpetual Preschool. Here is what you need:
Plaster of Paris
Paper Cups
Small Dinosaur Figurines (we're using dinosaur skeletons!)
A toothbrush
A magnifying glass
–
Approach:
Put a small amount of clay (or wet sand) on the bottom of a paper cup
Make a dinosaur imprint by pushing dinosaur figurine into the clay/sand
Remove the dinosaur
Pour in Plaster of Paris to fill the rest of the cup
Wait a day to let harden
Then turn upside down or peel off the paper cup to "unearth" the fossil. Voila! Your fossil!
Then I plan to give my little archeologist a toothbrush as a tool to clean the "fossil", thus, practical life.
–
We're going to use a magnifying glass too.
An additional sensory activity we'll be doing is using Dinosaur Eggs to feel light and heavy. Pretty straightforward, we'll use feathers, rocks, rice, etc. He is only two years old so I am going to make it pretty straightforward.
Early Literacy - Books we will be reading for this unit include:
"Digging Up Dinosaurs" and "Fossils Tell of Long Ago" by Aliki
Dinosaurs! by Gail Gibbons
The whole How Dinosaurs Series by Jane Yolen is wonderful
–
Then we will be playing with the letter D for Dinosaur by using sand paper uppercase letters and play dough exploration. I bought these wonderful sandpaper letters from Etsy. Not inexpensive but worth the investment given the time and years these letters will be in use.
Finally I bought these sweet little felt board based on Ten Terrible Dinosaurs from Etsy. You could use the lyrics below under Math & Logic, and, of course, you and your child(ren) can make up your own!
Language – Using our mandarin picture dictionary and an IPhone application we discussed dinosaur vocabulary such as: water, land, meat, plant, enormous, bird, teeth, tail, eggs, etc
Visual Discrimination/Pattern Recognition – We'll be using a few puzzles, both Melissa & Doug. One is a pretty simple chunky block puzzle:
and the other puzzle includes four mini wooden puzzles:
This puzzle is pretty great too!
Finally, we'll be making a puzzle from the cover of "How Dinosaurs Eat Their Food" based on an activity created by No Time For Flashcards.
Music – My favorite dinosaur children's song on Johnny Cash's children's album. We listen to the great Wee Sing Dinosaur CD. Very catchy tunes and perfect background music during 'choice time' in the mornings. I checked this CD out of our local library but the online price is very reasonable. In addition to Wee Sing, I found these creative dinosaur themed songs online.
Math and Logic – First, we sang these wonderful counting songs. I am betting that you will know the tune. I found the lyrics online posted almost 14 years ago. Amazing!
Five Crazy Dinosaurs
5 crazy dinosaurs sweeping the floor
1 got swept away, then there were four
4 crazy dinosaurs chased by a bee,
1 got stung, then there were 3
3 crazy dinosaurs playing with glue,
1 got stuck, then there were 2
2 crazy dinosaurs out for a run
1 fell down, then there was 1
1 crazy dinosaur acting like a hero
He went out to save the others, then there were zero
Five Enormous Dinosaurs
Five enormous dinosaurs letting out a roar One went away and then there were four… Four enormous dinosaurs munching on a tree One went away and then there were three… Three enormous dinosaurs didn't know what to do One went away and then there were two… Two enormous dinosaurs having lots of fun One went away and then there was one… One enormous dinosaur afraid to be a hero He went away and then there was zero…
One Friendly Dinosaur
One friendly dinosaur wanted to play peek-a-boo.
She found another, then there were two.
Two friendly dinosaurs looked behind a tree.
They found another, then there were three.
Three friendly dinosaurs went to find some more.
They found another, and then there were four.
Four friendly dinosaurs in the water did dive.
They found another, and then there were five.
Five friendly dinosaurs played in the sun.
They all ran to hide; now there are none.
Five Little Dinosaurs
Five little dinosaurs went out to play
Out in the land of the lost one day
Tyrannosaurus Rex ate one for a snack
And four little dinosaurs came running back
continue–4-3-2
One little dinosaur went out to play
Out in the land of the lost one day
Tyrannosaurs Rex ate him for snack
And no little dinosaurs came running back
No little dinosaurs went out to play
Out in the land of the lost one day
Tyrannosaurs Rex couldn't find anything to eat
So off she went to go to sleep
After singing, we'll work on matching and sorting dinosaur figurines to images, based on size, what they ate (meat or plants) and where they lived (on land or in the water). There is also a lovely matching game if you have the resources to buy it. If not, there are plenty of FREE online printable for dinosaur matching and memory games like here. I am going to laminate these cards.
Fine Motor Skills – Three activities to work on fine motor: 1) using tongs to pick up and drop into a bucket small dinosaur figurines, 2) unearthing fossils with toothbrushes, etc and 3) work together on these awesome Dinosaur morphs.
Art – Coloring using a few pages we already own but also one or two from this site, painting fossils and this cool activity will keep us busy. We will also be playing with these wonderful Melissa & Doug stamps.
Technology – We will spend some time on two websites: American Museum of Natural History and the National Museum of Natural History.
Excursions – We are so fortunate in Seattle to have to Woodland Park Zoo and Pacific Science Center. These institutions have wonderful online resources too.
Physical Education - I found this super cute song that has children act out a dinosaur's movements. So fun!
Dinosaurs of Long Ago
The dinosaurs lived long ago,
and walked like this, and that. (Slow, heavy walk movement.)
Some were large (Stretch hands upwards.)
and some were small. (Crouch down.)
Some liked water (Swimming motions.)
and some just walked on land. (Stomp feet.)
Some had wings, that flapped and flapped. (Flap arms.)
Some had long necks, that stretched and stretched. (Hand on neck stretching upward.)
The meanest, rudest one of all was ferocious Tyrannosaurus Rex. (Feet apart, hands claw like, scowl and growl.)
These were the dinosaurs of long ago.
Goodness gracious, where did they go?
That is a good start and is sure to keep us busy!
Thanks for reading and Have Fun!
Marnie
I linked this post to: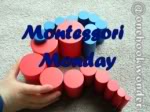 Marnie began Carrots Are Orange in 2010 after the birth of her first son. Carrots Are Orange is a Montessori inspired homeschooling blog for parents and educators. She hails from Maine, a wonderfully down to earth place to grow up. Marnie moved to the west coast in 1999, currently living in Seattle with her husband and two young boys. She is pursuing Montessori certification.
Latest posts by Marnie Craycroft (see all)