There are many days I walk into our pantry and stare at the shelves, wondering how I can entice my boys. I seek out various ingredients such as grains, sugar, salt, corn starch, baking soda, and vinegar. My eyes always seem to find their way and land on beans, perhaps the most versatile of all craft supplies. This post includes 10 Awesome Activities with Beans covering areas from sensory to fine motor to math to science. Children are sure to adore these activities!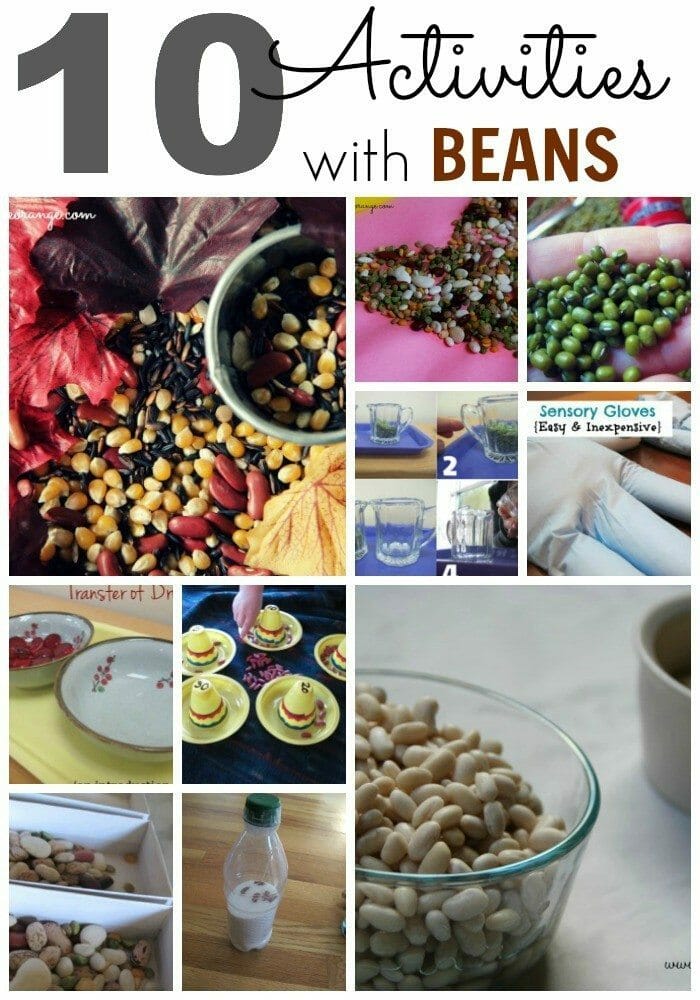 10 Awesome Activities with Beans

Sensory Tubs
Super easy to put together, beans come in all sorts of shapes and sizes to delight children's senses of touch and sight.

This bean activity is one of the first Practical Life works introduced to children in an Early Childhood classroom. The work guides children's fine motor skills development as well as focus and concentration. There is a built in control of error (the beans don't make it to the other vessel) that allows children to correct themselves without an adult's assistance.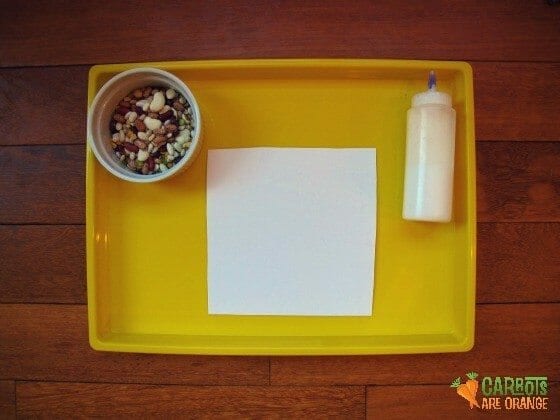 One of our favorite art projects  easily applied across many areas of the classroom, even cultural studies. The activity gives children lots of room for creativity.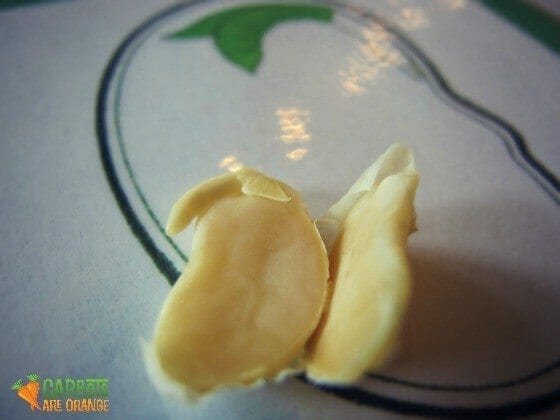 A classic botany activity for young children. You can soak a bean to get the skin to easily fall off to investigate the inside of the bean. Add a magnifying glass to the work area and children will be engaged beyond your imagination.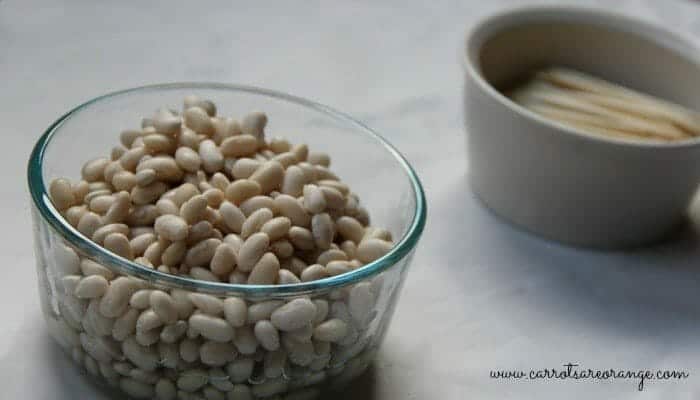 Beans are a wonderful building material, and, unlike marshmallows, probably won't tempt your child! Be sure to soak the bean over night and to use large enough beans if your child has particularly small fingers.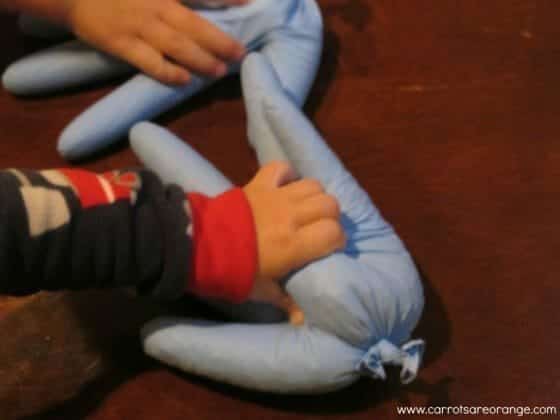 These gloves are so much fun and will intrigue your child. Fill with all different shapes of beans, corn starch, sugar, or even water, if you dare!

Another beginning Practical Life work in the early childhood Montessori classroom. This activity is attractive to children because of the feel of the beans (or gems as in this image) and the sound the objects make as they hit the bowl.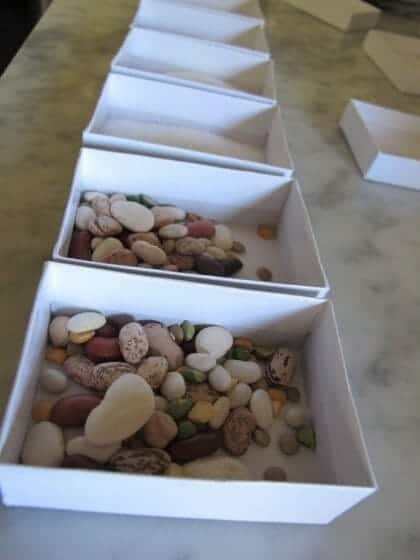 Sound Bottles are a traditional Sensorial work in a Montessori classroom. The child distinguishes the different sounds by matching pairs and grading.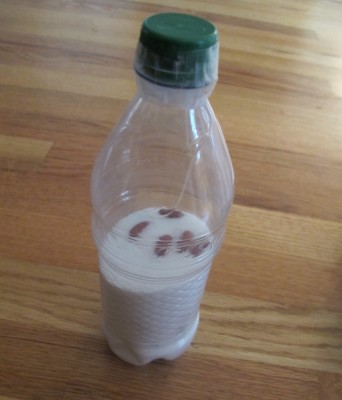 Babies and Toddlers love Discovery Bottles. So easy to do yourself by filling with a variety of household items!

Math: Counting Activities
Beans can be easily used for math activities. Sort beans, count with beans, and even perform math operations using beans!
Have fun!
Marnie
Print this FREE Poster: 10 Ways to Improve Communication with Your Child.
Print out this
free parenting cheatsheet
and place it somewhere you see every day.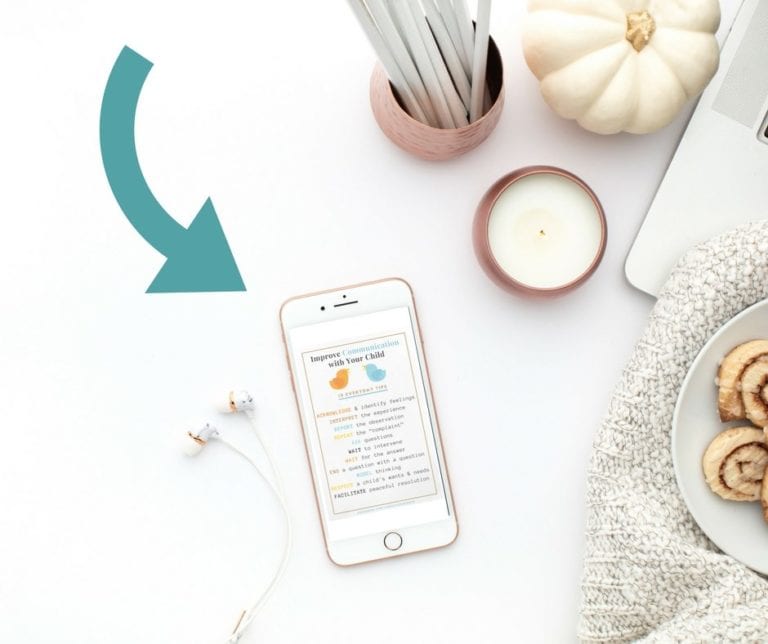 Download Your Free Printable
Download the cheatsheet. You'll get the cheatsheet, plus join 16,000+ parents & teachers who receive my parenting tips and ideas!
Print. Any paper will do the trick, but card stock would be ideal.
Place this cheatsheet in a place you'll see it several times a day.