As adults, we're pretty awesome at a lot of things. Truth, right? We handle lots of hard stuff like teaching, taking care of our homes, take care of our bodies, and find ways to manage finances. There is a lot to tackle.
Then there is this job called "parenting" that suddenly makes us feel inadequate.
Recently I wrote about my stages of parenting a child with challenging behavior. I think those stages apply to parenting all kids.
At first, there is denial, then there is self-doubt, then anger…and so on…I suffered a lack of confidence and low self-esteem.
I felt like I was failing at the most important task in my life.
We love these kids of ours with a love so fierce and strong, and yet, half the time we shake our heads and wonder if we're getting it all wrong and why this parenting gig is so darn hard???
Can you relate?
Raising these hilarious, amazing, often unpredictable humans is a mix of conflicting emotions that I never expected to experience.
I knew that I didn't want to spend my days feeling bad about myself and not being there for my kids (or my husband). I wanted to be present so how could I find my way back to parenting in a way that I wanted to and needed to?
Read: Simple Ways to Find Your Way Back to Mindful Parenting
I took a big step back and gathered my resources together. I got my home management binder together, I printed out my calendars, I planned meals, and I organized my sons' activities.
I did everything a la carte. It took me FOREVER.
I don't want you to have to take that same approach, which is why I am so excited to share this amazing parenting resource with you.
There's one thing you already know.
Sometimes parenting is awesome. And sometimes it's not so awesome.
But if you could find resources to help make it a little more awesome and a lot less hard?
Ah, yes, sign me up!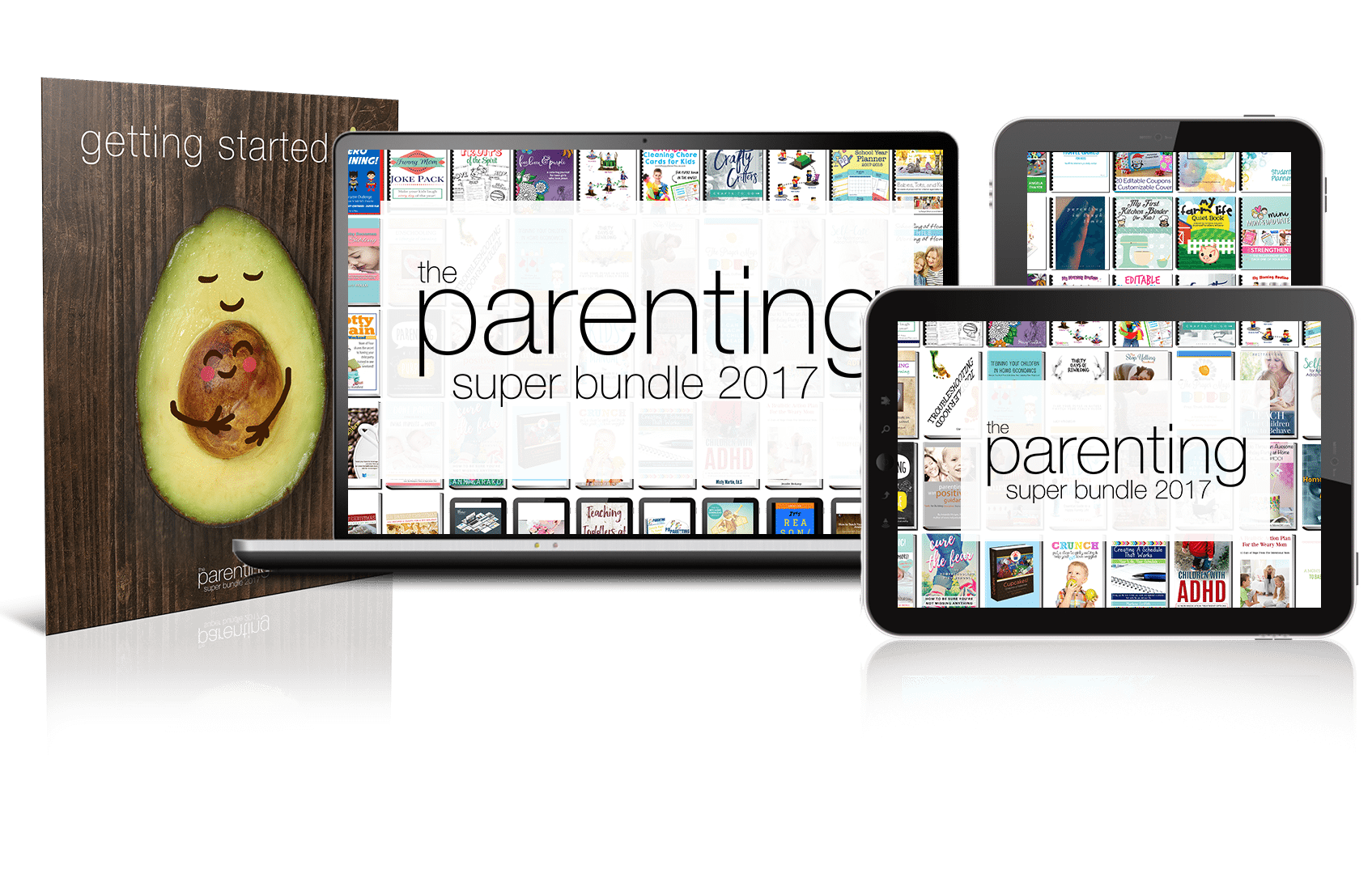 Well, look no further, because I found something that might be just what you need: The Parenting Super Bundle.
For six days only, you can get your hands on a package full of resources to help you rock this parenting gig even more, for the most affordable price ever. (Seriously, just wait until I tell you the price.)

This brand-new bundle includes 35 ebooks, 10 eCourses, 23 printables, 9 workbooks, 2 audios, and 1 membership site.
These top-quality resources cover everythingyou need to make parenting feel less stressful (and more fun!)… chore charts, discipline methods and ideas, strategies for tough challenges (for kids and for parents), printable craft ideas, homeschooling helps, and so much more.
For less than the cost of a gallon of paint to touch up your little Picasso's mural, you'll get a complete library to help you:
Apply step-by-step solutions to common challenges like whining, arguing, homework, and lack of cooperation
Build stronger relationships with your kids (even your teens)
Stop playing referee in sibling battles (and teach them how to work things out)
Instill gratitude, kindness, and helpfulness in your child
Become a kinder, more intentional parent
and feel encouraged and inspired in your parenting.
Plus, it comes with over $100 worth of bonus offers from companies you'll love (this is one of my favorite parts).
You sort of need to see it to believe it, but the package includes 80 digital products and it's worth over $1270!
Besides being so incredibly helpful, one of the things I like best about the bundle is the price. By offering it for a short time only, they're able to give you access to over $1270 worth of amazing products for a whopping 98% off!
Here's how it works:
Visit their website, take a quick look at all the goodness that comes in this package, then click the "Get my copy now!" button to go through their simple and secure 3-step checkout process.
You'll receive an email with a login to their online access portal, where you'll begin downloading your eBooks, signing up for your eCourses, and redeeming your free bonus offers.
Use their Getting Started Guide to pick the topic you want to tackle first and give you joy in your parenting journey!
The most important detail, though, is that this bundle is available for just six days! After Monday night, August 14th, the sale ends and you'd have to buy all of these products individually.
Don't Miss this Parenting Resource!
It's even backed by a 100% happiness guarantee, so you can make sure it's right for you.
As you already know, parenting is amazing and difficult. Enjoying it even on the craziest of days is not impossible.
You don't need to be a perfect parent to raise great kids, but if you (like me) could use a little help, learn more or get your bundle HERE.
(Psst… the bundle goes away at 11:59 pm Eastern on Monday, August 14th, so don't wait!)
.book-image { display:block; padding-left: 150px; background: url(https://carrotsareorange.com/wp-content/uploads/2012/04/Growing-Up-Centsible-3D-Cover.png) no-repeat; text-decoration: none; color: #333; min-height: 200px; border-bottom: none; } .book-image .button { display:block; padding: 10px; -webkit-border-radius: 3px; -moz-border-radius: 3px; border-radius: 3px; color: #fff; background: #25a163; text-align: center; font-size: 13px; }