"We must lift children up, not pound them into the ground, we must view their negatives as positives and their flaws as gifts," my instructor spoke about discipline.
I nodded ferociously.  Yes, yes, yes! I wanted to climb on top of the table scream, "Can I get an Amen, friends?"
I didn't think that would be appropriate so as my mom always used to say "let's not and say we did". I closed my eyes, smiled a refreshing smile, and let out a deep sigh of relief.
I was a new mom in my Montessori training and suddenly "it" all made sense.
Dr. Montessori believed in the power of positive discipline  and positive communication in a child's world. I am grateful to her.

Discipline in a Montessori Environment
When an environment is nearer chaos than discipline, a teacher/a parent must do one of two things: 1) observe or 2) give individual lessons/one on one time. Free choice is the ultimate goal. However, free choice cannot be utilized if a child lacks strength of will and inner discipline. He will respond to every stimulus in his environment. He cannot yet obey his inner guide.
The guide observes the child and knows when to intervene to direct the child back to an activity that suits his development. If the child is not treating material properly, then the guide will redirect the child either to end that work (perhaps he was not ready to complete that work), or to give another lesson on that work. The child learns respect through these experiences.
To Intervene or Not to Intervene?
A teacher should never interfere with a child's work with praise or punishment. If this happens, a child will feel inadequate, that he can't guide himself, lowers his self-esteem and motivation and discourages him. Once the teacher trains on the method and prepares spiritually to direct a class, she must then focus on giving lessons introducing the child to the materials. From there the child leads his learning to experience with his own "hands" with "control of error" built into the works to enable auto-education.
The teacher 's role is to observe and to recognize when to intervene to direct the child back to an activity that suits his development. A child can only improve himself if given the opportunity to practice on his own by his own will for extended periods of time: "how much better it is to recognize my own mistakes, and then correct them? If anything is likely to make the character indecisive, it is the inability to control matters without having to seek advice. This begets a discouraging sense of inferiority and a lack of confidence in one's self." Errors correct themselves in time and with practice; their existence is unavoidable in life for always. Even in science, the goal is twofold: to measure a precise figure and to measure the extent to which that figure could be wrong or deviate from that "precise figure".
Marnie
Print this FREE Poster: 10 Ways to Improve Communication with Your Child.
Print out this
free parenting cheatsheet
and place it somewhere you see every day.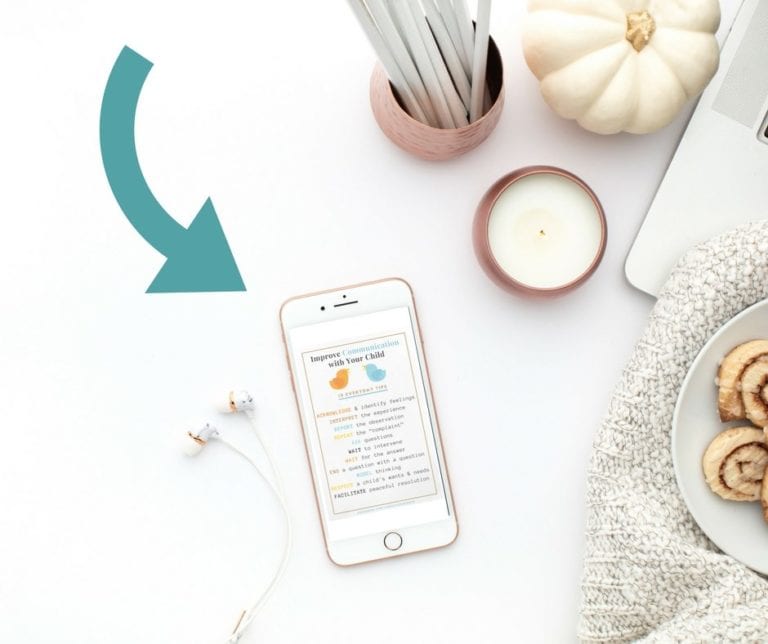 Download Your Free Printable
Download the cheatsheet. You'll get the cheatsheet, plus join 16,000+ parents & teachers who receive my parenting tips and ideas!
Print. Any paper will do the trick, but card stock would be ideal.
Place this cheatsheet in a place you'll see it several times a day.