One of the best things about Montessori is that many of the activities and materials are easy to DIY.
The nature of Montessori is clean, simple, easy, and open-ended. It makes just about everything DIY friendly, affordable, creative, and FUN! Many Montessori toys are also suitable for multiple ages. Some of the DIY Montessori activities that I've posted here have multiple uses.
You may make colorful wooden blocks that your child will play with for years. They might start out having a favorite pink block and carry it everywhere to one-day building castles with those same blocks!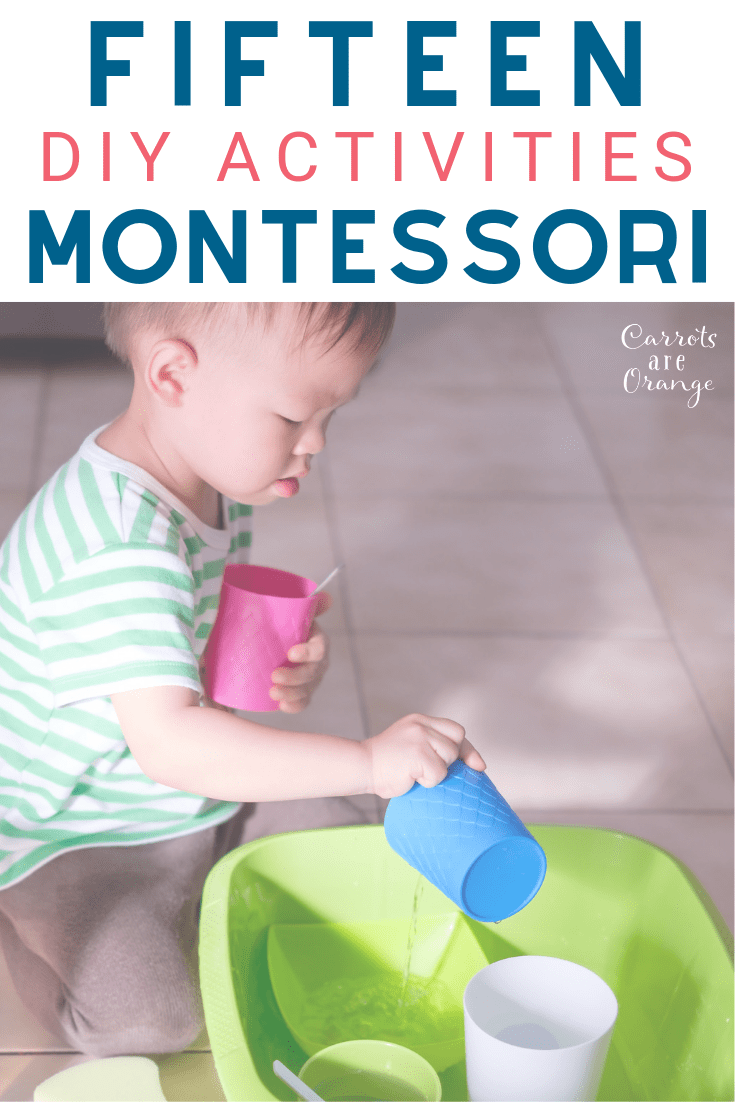 I hope you enjoy going through this list of fantastic DIY Montessori Activities. :)
DIY Color Tablets: I love these colorful wooden blocks! Making your own blocks is really easy and you can design them however you want. These gradient blocks are amazing for teaching colors, dark versus light, sorting, patterns, creative play, and architecture.
Here is another painted wood activity! These peg dolls are perfect for matching, sorting, counting, patterns, and creative play.  Montessori toys often suit different age groups because the simplicity allows for variation and creativity. This is a fun toy for infants through preschool.
I love this activity! First, you have an art activity! Painting rocks is already super fun and now you can make them into rocks for a clock!  This activity helps children learn to tell time and practice telling time, but it also teaches counting by ones, fives, and tens as well as teaching the tricks of reading a clock.

SO CUTE! Kid-sized things are way too adorable! I love this one. A kid-sized washing station teaches practical life skill and independence. Your kids will be able to help around the house and clean with their own accessible tools.

This is such an easy one! You are probably familiar with "I spy with my little eye, something…" This activity is similar except the game is concentrated to a small space of different objects. The goal is to encourage language by focusing on which letter the object starts with. "I spy something that begins with the letter, G."

Sewing is becoming a lost skill, but we should still be teaching it. Even if it is just the basics.  Simple hand sewing for crafts is a perfect place to start. This heart sewing activity would be great for Valentine's Day, Mother's day, or a birthday gift. You could also translate the project into making anything you want! Your child could make their own little toys, gifts, or learn their shapes by sewing each one.

I love the idea of making a variety of these puzzles and leaving them out for kids to discover.  Children are naturally curious and never seem to miss a thing. If there is a new toy that has appeared in their space they are certainly going to have fun exploring it! These puzzles could be made from printed pictures, photos, old book pages, or magazines.

Montessori smelling bottles are so much fun! There is so much variety as to what you can put in them. Spices, essential oils, and anything else you can find in your kitchen work perfectly. Use a cotton ball to absorb the smelling material, put it in a jar, and you will have a fun sensory experience with your child!  This was our first smelling bottles experience. :)

Balance beams are really fun and actually simple to make! These are great for coordination, gross motor skills, patience, and promote independent play.  I always like to include something in a play space that promotes large motor development.  A balance beam is great and further down on this list there is a DIY Pikler Triangle.

This little nuts and bolts set is great for dexterity, fine motor skills, and keeping kids busy! It is so simple to make. You could add variety to this activity with a variation of sizes. This will turn it into a puzzle and busy problem-solving game. Here is another easy to put together nuts & bolts activity.

Black and white are really beautiful and the simplicity works well with Montessori theory.  I thought this Munari mobile would be a beautiful addition to any nursery or playroom. Little eye-catching exploration pieces are what really make a Montessori bedroom come to life.

Rattles are one of the simplest toys. Every baby seems to have one they like and others that they don't want anything to do with.  I love this idea to make your own.  You could add other things as well such as ribbon or felt embellishments hanging from the end.

What can I say…it is yet again another simple toy that promotes development in every way. The Pikler triangle encourages physical development, encourages challenge, promotes independence, supports posture and optimal growth.  Pair this with the balance beam and you will have some simple gross motor development tools right in your home.

One more DIY Montessori activity. The button snake is easy to make and simple for your children to play with. This is another easy one to take on the go or keep your children occupied.  This is a perfect opportunity to practice shapes, colors, dexterity, sorting, patterns, and creative play. Check out this other button snake activity perfect for Chinese New Year or Midsummer Festival.