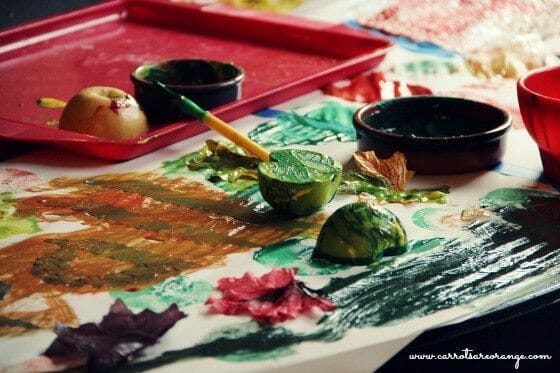 Although I was at first disappointed that the apples I had bought from the grocery were not in great shape for eating, my mind immediately went to "what can I do with these apples with the boys?" So we sliced them open and took a look at the Parts of the Apple: the skin, the flesh, the core, the seeds and the stem. Then, well, we made art!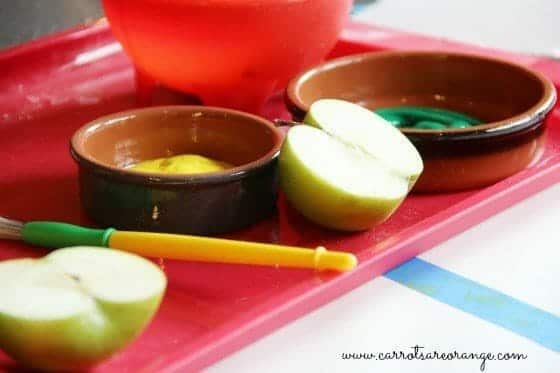 Apple Printing
Materials:
Paper
Apples
Brush (or not)
Bowls for paint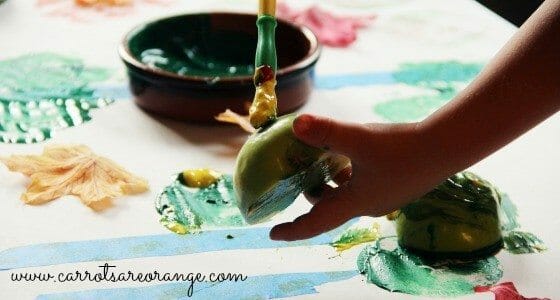 Approach:
I set out a tray with bowls of paint. The bowls were wide enough so that the boys could dip the apple into the paint. I also included a paint brush so the boys could paint the apples if they desired that approach. I added a few fake leaves and painter's tape in the shape of the letter "FALL 2013" to create a resist painting effect. I left out bubble wrap if they wanted to add additional textures.
Sensory Tub
Purchasing an actual sensory table last summer was one of the best purchases I've ever made for my sons. We've done loads of sensory tubs over the years and finally having a table that has a drain and standing on its own legs was a big plus. Our table is clear, which is a lot of fun for the boys. I often find them under the table checking things out from a different view.
Materials:
Acorns
Pine Cones (or cones from Spruce, etc)
Leaves (I added fake leaves because we were having an insanely rainy week but add REAL leaves if you can)
Black Rice
Kidney Beans
Corn
Pumpkin Seeds
Items for scooping, tonging and transferring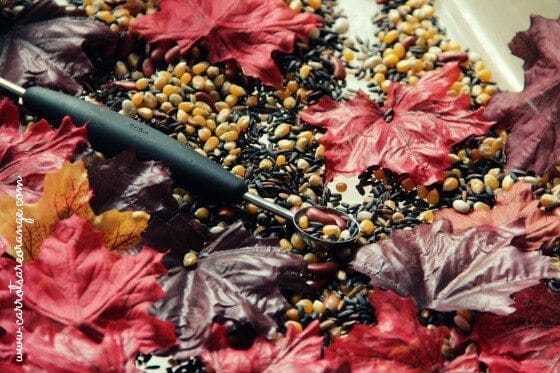 Thanks for visiting today! Be sure to check out my Fall Fun for the Whole Family Pinterest Board.
Marnie