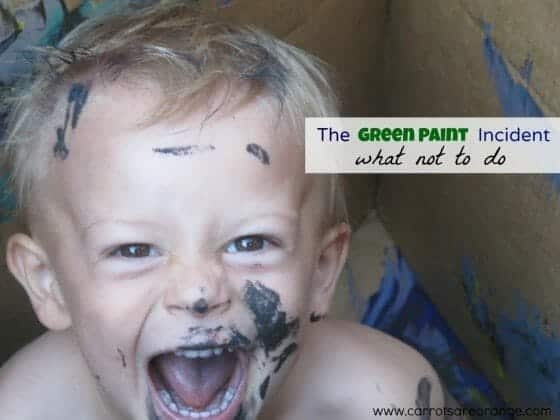 Parenting Fail
So here is the scene and please don't judge me:
I set out a fantastic Christmas activity from Adventures in Mommy Land that involved as a first step an egg carton Christmas tree, green paint and glitter. I taped down paper as a nice surface and then invited my 2.5 year old over to his activity table. He was really excited for the activity. He grabbed one brush, handed it to me and then took the other in his hand. The egg carton was being painted beautifully. Just as we started this exercise, W, my 11 month old looked at me and rubbed his sweet little eyes. He was ready for a nap. I looked at W, I looked at J and made the decision to leave J with the painting activity. He seemed perfectly content, focused even. So, excitedly but not without a tad bit of apprehension, I said, "J, I'm going upstairs to put W down for his nap. I'll be right back to see this Christmas Tree!"
Wow. What was I thinking leaving a 2.5 year old BOY with green paint and FREE reign? Well, honestly, I was being hopeful. By letting him know that I trusted him, maybe he'd gain confidence and independence. Right? Plus his self control has been great lately.
I came downstairs about ten minutes later. J came running happily around the corner with green paint all over his hands. No big deal. We're used to making hand prints and getting dirty with paints. As I rounded the corner to the activity area, he excitedly explains something to me about his track and his trains and the wall and that is when I see it. The green (violent) brush strokes on the wall, at least a half dozen trains being rolled in green glittery paint, the floor smeared with paint and his track smudged here and there and everywhere with paint.
I lost it. My brain flashed instantly to every positive discipline mantra I have learned over the past 2.5 years and simply bypassed the information. Along with it went any self-control (on my part) to exercise the mantras in the most challenging of situations.
I am not sure why THIS time I chose to lose it. I usually let things slide at least a bit. I don't mind picking up messes. I actually even relish in my boys' messes. I suppose THIS time I was disappointed in myself but not really. It was as though I was having a fight with myself that went something like this:
"You shouldn't have left the paints out."

"Yes, I should have! Even if he makes a mess in choosing to do something different with the paints than the original intention… THAT is being creative and THAT is a good thing!"

"But you also have to teach him respect for the environment and respect for you."
Exhausting, right?
So, I gasped and didn't say anything. I went straight to the sink, grabbed a bucket and a rag. Clean. Yes, clean.
Wait.
This next moment was my one attempt at using the situation as a teaching opportunity.

"Hey, J, why don't you go grab a toothbrush and we can clean up together."
I thought he could scrub his trains. He seemed excited but then used those materials for having a good time and was making the situation worse by making the pick up time even longer.
So, I threw down the sponge in the meanest way I knew how.
"Mama, don't be mad! It's fun!"

"No, no, J, it is not fun."

"See, the paint cleans up a little bit here and a little bit there," he explains as he smeared more paint on the wall.

Then he laughed exclaiming, "This is FUN, Mama!"
Now that I ponder about it, I believe his reaction was more of a response to my behavior, trying to make everything better. Poor thing.
So, cringing, I say to him in my meanest possible voice ever, "Mama is very angry, J. I am VERY angry at YOU."
Gasp.
Did I mention that he was running around with only a shirt on (he actually had green paints on his bum – I think he may have itched his bum with a brush, I am not sure) and my 11 month old was screaming upstairs because the next door neighbors' plumbing work jack hammering woke him up, oh, no, wait….he never went to sleep.
So I went upstairs, grabbed W, changed and grabbed clothes, etc for the two of them. I was met by my 2.5 year old at the bottom of our stairs holding his potty saying, "I went poopie in the potty, Mama! It's a J! Aren't you so proud of me?"
I was proud of him. I turned my frown upside down and gave him proper congratulations.
Then I scooped him up, put some clothes on him, threw some snacks, etc in a bag, strapped them into their car seats and began to drive…
…Sigh. They were both asleep within five minutes.
Then I breathed several deep breaths and reflected on what I could do differently next time (and there will be a next time).
After all, it's only a small mess. It's only paint. This life isn't terrible. It isn't hard. I am the mother of two young boys who like to challenge the world around them. This quality is a good one and should be managed, no, groomed, for use in life. So, why is it so difficult to remember these facts during typical situations that push us to our limits?
I am mortified by my behavior this morning but I know that I am not alone.
I know that my son loves his mama. Somehow he understands. I know that he won't carry this experience to screw with his development. Still, why are we so hard on ourselves? I am hoping some of you can relate to this explosion and that this musing hit home. We're in this journey together after all.
Thanks for visiting,
Marnie