So it's hot and we're traveling a lot this summer. Besides the spectacular bodies of water in which to play and to explore, I needed something to do early in the morning and after the pm nap. So we have ice excavation madness – chisel and melt. My two year old loves this exercise. Good news for you, he was busy with one version of this activity for an hour this morning, which, in toddler land, as you know, is equivalent to a week for us adults.
Inspired by a post on Counting Coconuts, we've done this activity a few times to much success and enjoyment. There are so many different versions of this 'excavation' activity that you can always keep it interesting for your kids. It also pairs nicely with a 'treasure hunt' sensory tub exercise. It was a blast. See photo below.
One version:
1) Take out your ice cube tray and fill with water
2) Add different food colorings to each cube and freeze. I recommend keeping colors simple because the primary colors will melt and create new colors for your child to witness. Otherwise you end up with…erh…gorgeous brown/black/gray colored water
3) Once frozen, pull out of freezer and add frozen ice cubes to larger storage bin already filled with very cool water
4) Then add fun figurines for your child to chip out. We've added a squid and an octopus for example
5) Freeze the larger tub/food storage container
6) Once frozen, pull out when you're ready to chip away and let the melting begin! I recommend this activity to be best executed outdoors on a warm day. Great cooling activity for all!
Next version is simple and one I created 'real time'. We're staying at a cottage on the Cape in Mass so I was lucky to have food storage containers on hand. This is a simple modification of the above activity. I grabbed about a half dozen different sized food storage containers and went around the house filling each with dinosaur and farm figurines, blocks, legos, coins, caps and matchbox cars. Then I placed in the freezer over night. The next morning we were ready to roll. My two year old enjoyed feeling the ice melt, dribbling warm water on the ice to watch it melt, taking the ice block out of the container and acing it back again and of the course the final result, the good coming free. We collected all of the treasure in one container and examined it more closely later.
Another version of this exercise involves food and I've only just begun this experiment. I wanted a way to integrate color without using food coloring plus it includes a tasty snack as the end result! Below is a sneak peak!
What you need to complete numerous 'excavation' activities:
– Water (yup, really)
– Ice (when refreezing the tub, adding cubes to already cold water helps if you are adding colored ice cubes.)
– Objects to freeze such as sea creatures or other types of figurines, misc toys and gadgets from around the house
– Food coloring if desired
– Berries if desired
– Ice cube tray
– Different size food storage containers
– Fork and/or Wooden spoon and/or meat mallet (for your excavation tools, of course)
Tips
Besides those tips randomly included above…let your child dive, work with him or her by assisting those developing fine motor skills with the excavation but perhaps more importantly talking and describing the experience. Here are a few of the 'Sensory' vocabulary words we used:
– Cold
– Melt
– Wet
– Slippery
– Smooth
– Shiny
– Icy
– Hard
– Rough
– Crack
– See through
– Clear
Have a blast with your little excavators and stay cool!
Marnie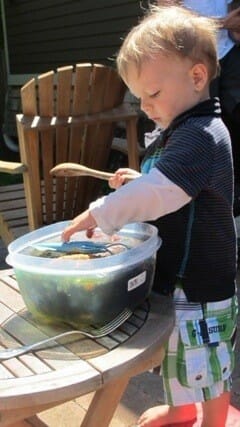 More Montessori Summer Activities