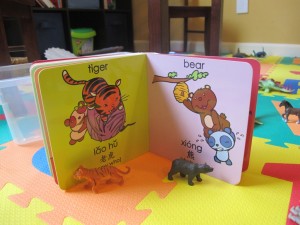 The other day we received a big package from Amazon with a big cardboard box. Score. We love boxes. To sit in. To paint in. To play trains in. You name it. So on this particular day my 2.5 year old climbs into the box and begins to open and close the box saying, "Kai Men. Guan Men." That is "Open Door" and "Close Door" in Mandarin. So, I jumped on the opportunity. After exhausting the vocabulary from my 34 year old brain, I quickly dug out some of our Mandarin cheat sheets from our class and we went to town. No matter what language you're trying to integrate into your home.
So grab a cardboard box, maybe a few markers to decorate your child's "home" and your imagination (well, your child's imagination mostly), and let the learning begin…
Vocabulary for the home in Mandarin (we love Google Translate):
Zhe shi men. (This is a door.)
Zhe shi chuang zi. (This is a window.)
Shui? (Who is it?)
Qiao. Qiao. Qiao. (Knock, knock, knock)
Kai Men. (Open the door.)
Guan Men. (Close the door.)
Kai Deng. (Turn on the light.)
Guan Deng. (Turn off the light.)
Shu zai na li? (Where is the book?)
Zai yi zi shang. (It is on the chair.)
Zhe shi zhong. (It is a clock.)
Chi fan la. (It's time to eat.)
Shui jiao la. (It's time to sleep.)
Gei ni. (Here you are.)
QÇng jìnlái. (Please come in.)
—
I also highly recommend the following educational dvds (or streaming videos via Amazon):
—
There are great books too. Check out this post I wrote a while back. My House Flap Book , one book that I didn't include in the post, is also quite good.
Thanks for visiting.
Marnie