Ah, Maine, the way life should be. A wonderful state that just so happens to be the one in which I was fortunate enough to grow up. My childhood was naturally spent doing activities that most parents (modern and in the past) strive to achieve for their children. For me and my siblings, sensory exploration was out our back door, in the morning, in the afternoon, in the evening, moose walked through our yard, we had a huge garden in our back yard and spent summers on the ocean scouring the beach and then picking blueberries for pancakes and muffins. I didn't completely take it for granted.
In about a month my sons and I are headed to Maine for several weeks. I thought it would be fun and worthwhile to integrate some Maine themed activities into our days over the next few weeks. Here are a few we're doing in our home:
Preschool Unit on Maine
MOOSE – We used the Moose for a practical life activity:  I set up a tray with a medium sized Moose figurine, one bowl filled with soapy water, one bowl filled with water, a toothbrush, a sponge and a towel for drying off. I set out the tray and pointed to each item, then demonstrated the cleaning approach.

LOBSTER – This crustacean is very important to the little old State of Maine. We're going to spend some time on the Lobster Institute's website looking at pictures and talking about this sea creature. There is even a coloring page that we'll definitely be using, probably a few time.  Finally we used Montessori three part cards to work on classification and language. I downloaded these three part Montessori Marine Invertebrate cards. So we'll work on our words and learning about other marine creatures.

HONEYBEE – We integrated the Honeybee into Science, Math, Movement and Art. We first investigated honeybees on National Geographic Kids. Then we explored the life cycle of a bee. Math came in when ended with working with our tangrams seeking out the hexagons and created patterns with them.  We weaved in movement when we pretended to be bees pollinating flower after flower on our daily walk through the neighborhood to the playground.

Fun reading to go along with honeybees includes The Magic School Bus Inside a Beehive, Eric Carle's The Honeybee & the Robber and Are You a Bee? by Judy Allen.

POTATO – Peeling is such a great practical life activity. The potato is an important vegetable to the state of Maine and it is a good one for peeling. Using a peeler really challenges our 3 year old so this activity was great practice for him.

LEAF IDENTIFICATION – We have not attempted this activity yet but I am inspired to do it once we land in Maine. We'll go on a nature walk and try to identify trees. I found this wonderful FREE printable that I can't wait to use.

BOOKS – Of course we will be reading and revisiting many of our favorite Maine themed books.

Blueberries for Sal by Robert McCloskey

A classic, lovely story about Sal. She and her mom go blueberry picking unknowingly alongside a mama bear and her cub. There is a sense of comfort when reading this book, simplicity in the act of picking berries for baking. You can practically hear the "Kaplunk" of the berries, taste their sweetness and smell the pie already in the oven. A warm, warm book sure to delight!

One Morning in Maine by Robert McCloskey

Yet another warm, inviting book about Sal. This time Sal has lost a tooth. She takes us on a sweet & simple adventure on the coast of Maine. Each time I read this book my childhood comes back vividly and strongly. Ice cream at the dock is a genuine, sweet summertime activity. I want to be there with Sal, her younger sister and her dad. I am so happy to share this story with my boys.

Counting Our Way to Maine by Maggie Smith

Every family wants this story to be their family vacation. A week on the beach lounging on a row boat, catching fireflies, building sand castles & baking blueberry pies. A sweet counting book that achieves the goal of telling a story. My older son definitely learned his numbers from this book.

I Met a Moose in Maine One Day by Ed Shankman

This is a new book to us. I am really excited to explore it with my son.

ABCs of Maine by Henry Smith

A classic ABC book perfectly suited for Maine. Children will learn about Maine's most famous parts. The illustrations are lovely, graceful and inviting to all readers, especially little ones.
Earlier this week we did a practical life activity with blueberries to start getting our Maine juices flowing in our home. Sweet and simple with a great reward for your effort! Of course once we get to Maine, the adventure will mostly include nature walks, rock collecting, berry picking, swimming, sand digging and other messy activities. I look forward to sharing our experiences with you.
Have you ever been to Maine? How do you prepare your children for a trip to a new place? Please leave a comment! I love hearing from you!
Thank you for choosing to read this post today.
Marnie
I shared this post on: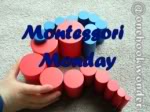 P.S. My friend, Dayna, recently opened up her FREE Behavior Workshop. It only happens twice a year. You don't want to miss out. Trust me. Learn more and join here...
The FREE Behavior Workshop.