---

Here is the deal: I do a lot of activities that have grand plans for success that absolutely and utterly FAIL. I won't lie, my self confidence always takes a tumble and I have to work really, really hard at not getting frustrated with my boys  (which seems ridiculous, right? I am the one who set up the "experience" for them.) So, really, I have to be just as patient with myself as I am with my boys.
Here is an example of one recent EPIC FAILURE that I thought I'd share:
I am always impressed with Jenae at I Can Teach My Child. She has this extraordinary science ebook available with loads of phenomenal totally easy and totally doable ideas.  I am a huge fan of Steve Spangler so when I saw one of his experiments done so gorgeously on I Can Teach My Child, I was inspired and excited to try all the experiments. Too excited. One particular experiment that I couldn't wait to try with my boys was Elephant Toothpaste. So I gathered all the materials and thought I'd wait for the the "right moment".
I'm not sure what I was thinking when I spontaneously decided to do this activity with two three year olds and a 1.5 year old. All boys, which really doubles the whammy factor.
The approach and the set up is actually very easy, which is why it is even more embarrassing that the project failed so miserably. All you need is a water bottle, hydrogen peroxide, dish detergent, food coloring and yeast. Please visit I Can Teach My Child for a beautiful illustration of the activity. Her clear explanation and images are worth the visit.
So here is where I went wrong:
MISTAKE 1: As the three boys sweetly played in one corner of the house, I spontaneously decided to try this new activity. (RETAKE: Let a good thing be. They were happily playing, no need to mess that up.)
MISTAKE 2: I gathered the materials quickly and threw them on a tray in our backyard (RETAKE: Take time to plan and lay out the materials safely and securely on a tray ready to be used.)
MISTAKE 3: I called the boys outside quickly without any preparation (RETAKE: Same as above. Take time to plan and avoid hurried, intense energy by rushing around.)
MISTAKE 4: I handed my son the food coloring and watched him squeeze way too much blue into the bottle. I sat back and watched him. (RETAKE: Prepare him for allowing a few drops. Still involve children where you can in an activity but find a way to control them.)
These images capture the epic failure of this activity. It took days for all the coloring to come off their skin. My boys covered my friend's boy with the substance much to my friend's surprise.
So what would I do differently next time?
It's a great science activity but timing is everything especially with the younger ones.
I wouldn't 'throw' it together and wait patiently for the "right moment". I'd plan and set aside the tray of materials.
I'd wait for the right timing with my boys energy (which really means I'd wait until they were at least 4).

This activity is one of many over the past three years. You, my friends, are privy only to the highlights. My blog is my daily affirmation that "I Can Do This Parenting Thing". Honestly, most days are pretty tough with loads of challenges I hope to find time to process but rarely write about, especially on this blog. There are days when I fear that I am truly failing as a parent and that I am ruining my children. There are days that I fear my sons won't respect me, or even more simply, like me when they grow up. Those moments, that happen several times throughout a week test me and ultimately make me stronger and more resilient.
There is some talk these days about "Mommy Bloggers Lie" and "Mommy Bloggers Are Perfect" – two very different, conflicting sentiments and two statements that for the most part are false. As I mention you see the highlights. I will share more failures, sure, but truth be told like most things in life there are a lot more ups than there are downs so that is what I choose to write about on this blog. The down days may way heavy but they cannot take away the moments of joy, moments that are often found in the midst of a "failed" project. Sometimes we just gotta laugh, folks, even at the most challenging parts of our parenting days.
Thanks for choosing to read this post. This post was written as part of my MBA Turned Mama Series. I write it to ground myself, to process outwardly and to hopefully make you and myself laugh along the way.
Marnie
---
---
Print this FREE Poster: 10 Ways to Improve Communication with Your Child.
Print out this
free parenting cheatsheet
and place it somewhere you see every day.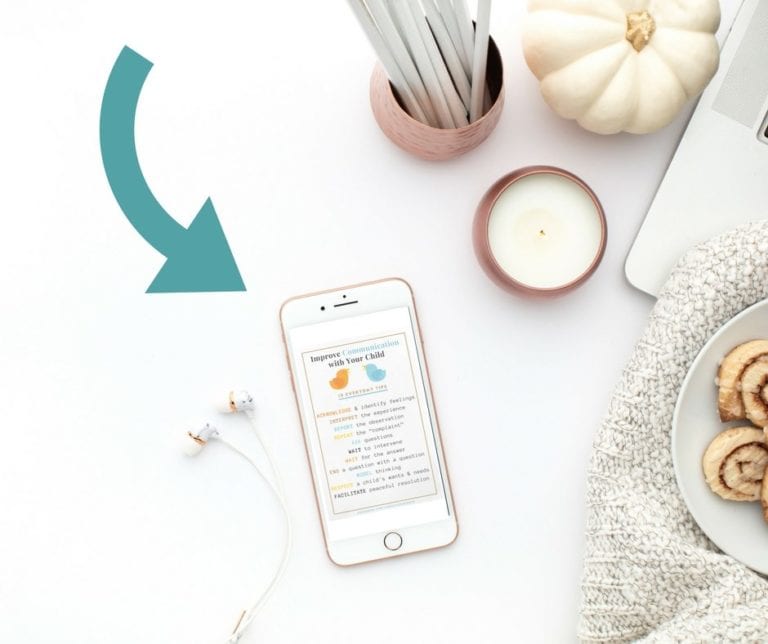 Download Your Free Printable
Download the cheatsheet. You'll get the cheatsheet, plus join 16,000+ parents & teachers who receive my parenting tips and ideas!
Print. Any paper will do the trick, but card stock would be ideal.
Place this cheatsheet in a place you'll see it several times a day.
---