Guest post by Charlotte of Make, Do & Friend
I'm pretty sure all kids go through a dinosaur fixation at some point, my 2.5yo son Vincent has been into them for over a year and still going strong! I figured now was a good time to introduce some Montessori inspired activities, including all his favourite prehistoric creatures…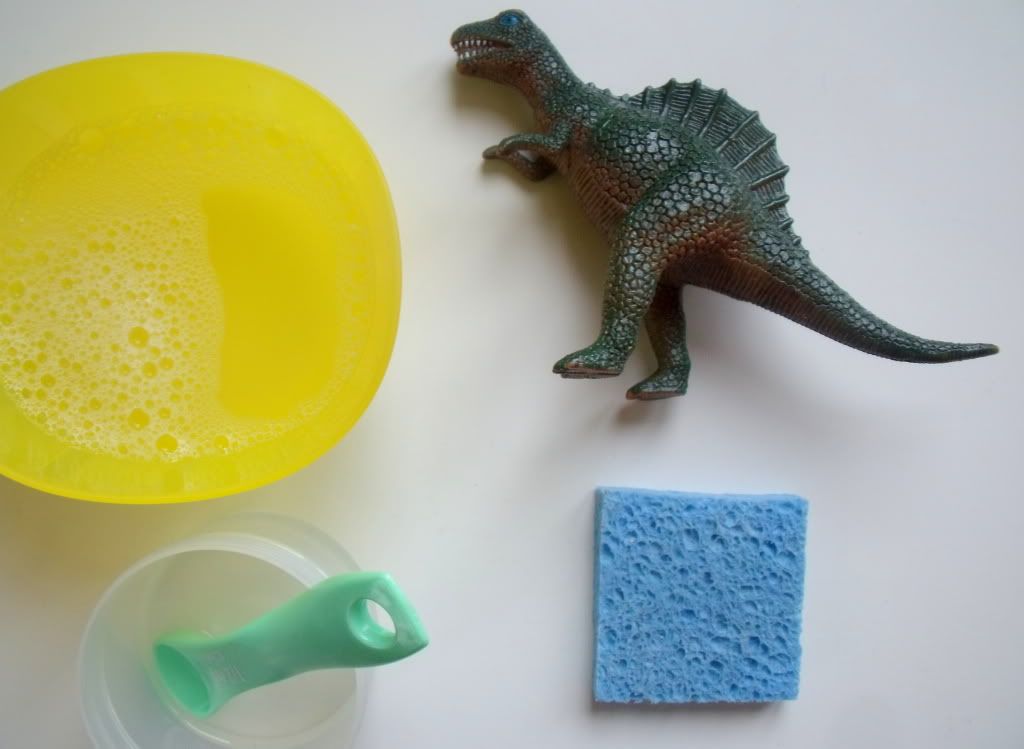 Dinosaur Wash – this is a practical life activity. I set out a little bowl, a tub of dish soap with a scoop, a sponge cloth and a little jug for fetching and filling water. Vin loves this one as I guess most kids love water play – but using the small bowl and giving him a purpose means he is less likely to chuck water everywhere!
Fossil Dig –
I know sensory tubs are not strictly Montessori, but the sensory hands on aspect is. Plus I went about this tub a little differently, I normally add a filler (beans, rice etc), loads of props to go with the 'theme' and a bunch of plastic scoops and spoons – this tub is a lot simpler, some
Homemade Moon Sand
, fossil toys and
real
tools (a paintbrush, palate knife and a magnifying glass). This was a big hit, we ended up burying and discovering the dinosaurs over and over – you could use real sand or soil instead.
Footprint Match –
this is a good activity for shape recognition and classification, I always take the opportunity to talk about the distinguishing characteristics of each dinosaur – some have three toes, some walk on four feet etc. We have some
salt dough footprints
 we made a while back, but you could use playdough or make prints with paint.
Fossil Match – another matching activity, but using a different approach. I have these wicked fossil toys I picked up at the Museum, and Vinnie loves to pair them up with their non-fossilized counterparts. We always end up having lots of great conversations about how dinosaurs looked, how paleontologists pieced the found bones together etc (honestly, I have learnt more from this dinolove too!)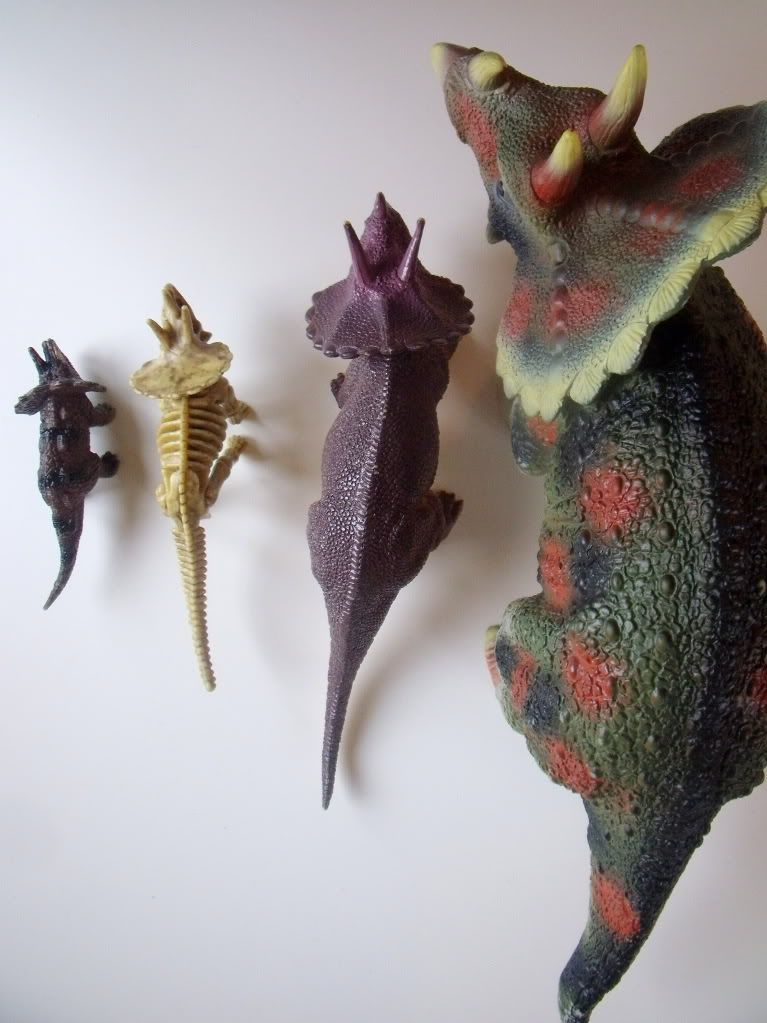 Dino size sorting – here we used different model triceratops to work on some size ordering. With a little one around these activities always end up being 'the big strong one is the daddy, this one is the mommy and the tiny one is the baby' type activities. Great for role playing, not so great for gender stereotyping!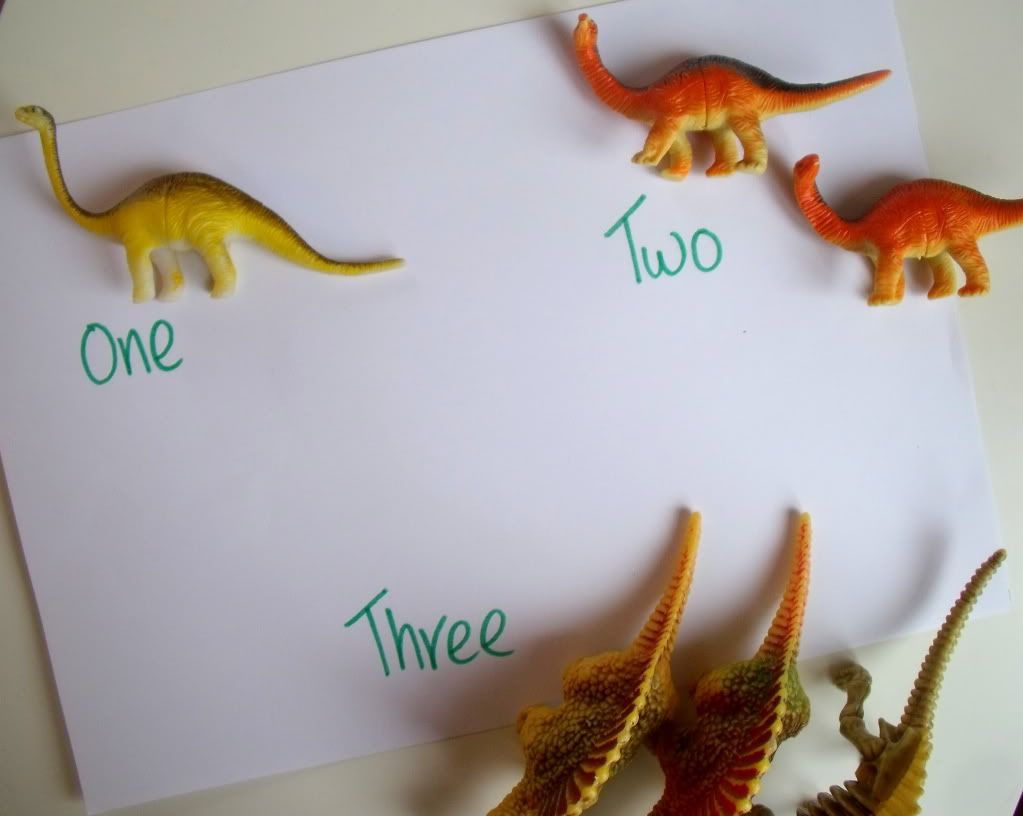 Dinosaur counting – I literally think I could teach anything using dinosaurs my son loves them that much! Here we did some counting practise, afterwards I wrote out the numerals to work on number recognition too. I know people tend to have fancy flashcards and printables for these kind of activities, I'm too cheap and unprepared for things like that!
How big is a dinosaur – this is Vin's absolute favourite one, mostly because he loooves his tape measure! Although he is a bit young for this one, I like that he is getting to grips with the concept of measuring and that some things are bigger than others etc. Older kids could keep a record or chart as part of their scientific investigation as they work through measuring their toys!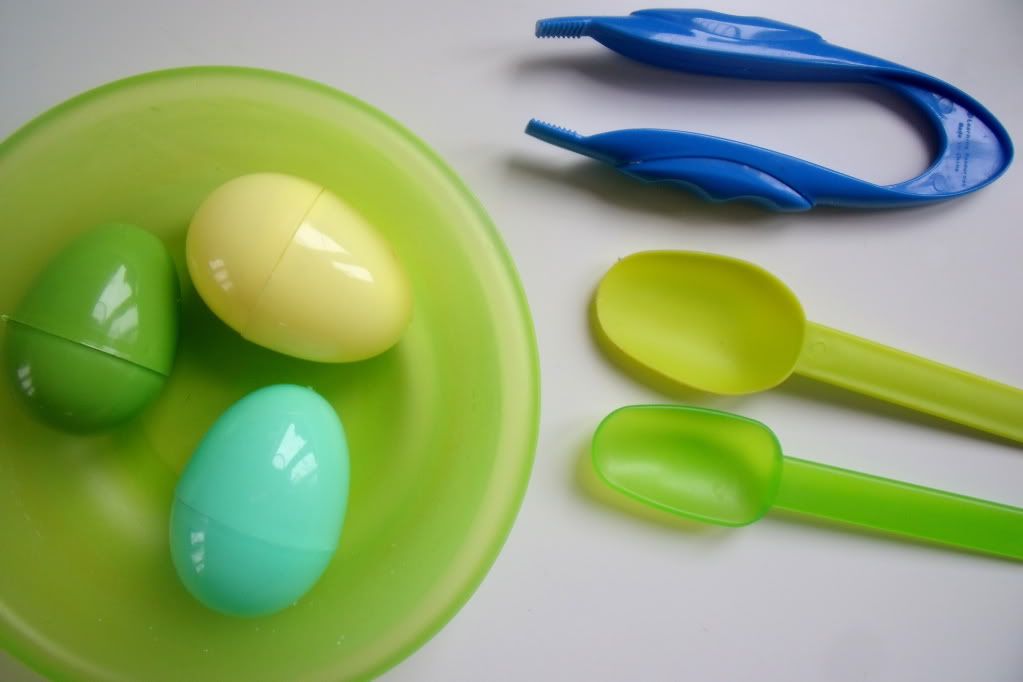 Egg transfer – this was also one of our Easter activities, but I hid a tiny dino toy in some of the eggs which made it authentically dino-related! I always like to set out a couple of tools for fine motor exercises – here we have spoons and tongs, in other activities we have used a magnet fishing rod, chopsticks and clothes pegs.
So friends, I hope this inspires you, if you don't have a dinosaur lover in the house you can adapt any of these activities to fit around your kiddos obsession (trains, horses, spaceships, cars etc). What are your kids latest obsessions?
————————————————-
Charlotte is a twenty-something mum to Little Vin, early years childminder, playdough maker and believer in the power of playdates. Check out the fun over at
Make, Do & Friend
, on
Facebook
,
Twitter
 & Pinterest
Gain Access to Dozens of Printables!
Beautiful & engaging downloadable Montessori materials at your fingertips when you subscribe to the CAO newsletter.
You will receive an email with access information once you subscribe.