In our Reading Corner we created a Language and Culture Basket. At some point, this concept will be integrated into our impending Continent Boxes.
For now, though, the basket is situated in the activity area, next to a bookshelf, rocking chair and bean bag. The basket includes several books geared towards teaching kids Mandarin, a Chinese nursery rhyme book, a book about the world, Toot & Puddle's Top of the World book, a guide book that accompanied an education Mandarin DVD and an extensive Chinese vocabulary book.
I also have a World Placemat that I absolutely adore from Crocodile Creek and a simple print out of China or Asia. These maps are a bit advanced for a preschooler but they still provide a great visual for our little sponges. I'd like to find a clean and neat way of placing them on the wall by his basket.
This learning area will certainly evolve over time. I can't wait to see how it transforms with our learning and my sons' development!
Thanks for reading!
Marnie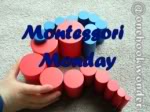 P.S. My friend, Dayna, recently opened up her FREE Behavior Workshop. It only happens twice a year. You don't want to miss out. Trust me. Learn more and join here...
The FREE Behavior Workshop.