The Montessori Dressing Frames are a staple in a Montessori classroom. The good news is, though, if you are looking for frugal ways to homeschool, there are ways to produce the work without purchasing the frames. You can create a DIY frame, use a doll and baby clothes or real objects likes a shoe with lacings. Below is a lesson for the Montessori Bow Tying Dressing Frame
.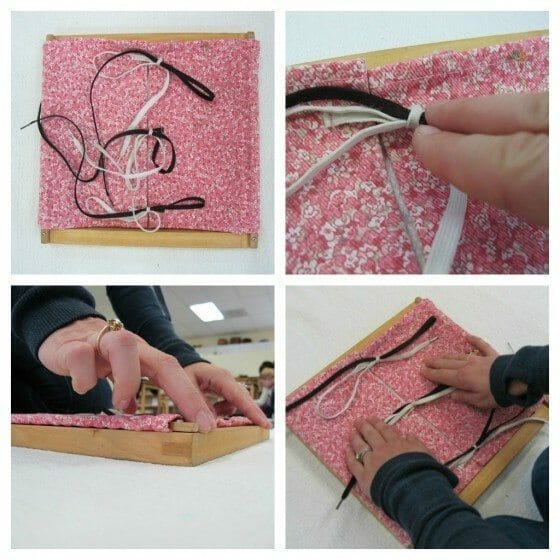 The child carries the frame to the table. Identify the frame: "Knot. Wood. Fabric."
Use the 3-finger grip, grasp the ends of the tie and pull the ribbons out.
Fully extend ribbons
Place hand on sub dominant side of fabric, tuck forefinger under the bow & pull up the bows to untie
Allow the ties to fall flat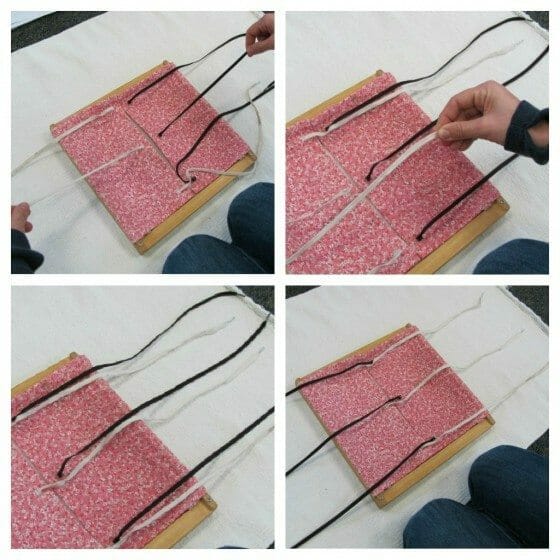 Use 3-finger grip to pull ribbons to respective sides with red one out to the dominant side, the white ribbon to the sub-dominant side.
Open and close flaps
Cross white ribbon over to the dominant side. Cross red ribbon over to the sub-dominant side.
Point out the parallel position of the ribbons in the center of the frame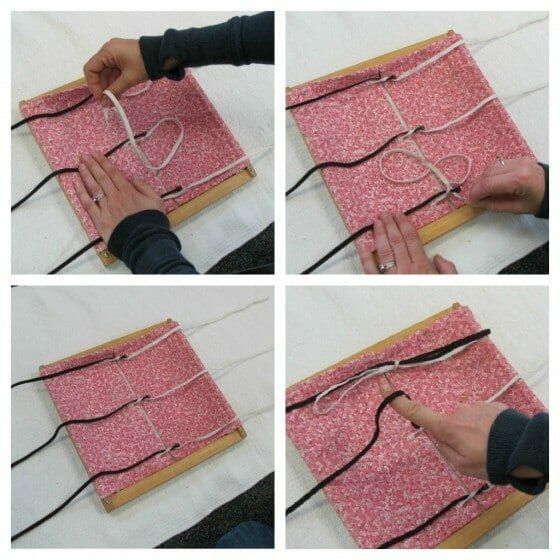 Pick up white ribbon, place above red ribbon
Push under both ribbons while holding the red one down. Pull the white ribbon towards the dominant side
Grasp ends of ribbons with 3-finger grip and pull out
Pick up red ribbon about 1/3 of the way from the cross

Use 3-finger grip of sub-dominant hand to pinch lace and make a loop
Grasp white/blue ribbon with dominant hand and loop clockwise around the red loop. Push the white ribbon through the loop formed by the previous motion. Pause for child to see white ribbon pushed through the loop
Grasp each loop with 3-finger grip and pull out to tighten bow. Do with each bow. Invite the child to do the exercise.
Dressing Boy Tying Frame Resources
For ideas on how to create DIY & Alternative Dressing Frames, Deb at Living Montessori Now has a wonderfully resourceful post on the topic.
If you want to purchase frames, check out the following resources:

Best,
Marnie
Subscribe Today!
Join over 16,000 parents & educators receiving a weekly dose of Montessori learning, inspiration, parenting love. I promise not to spam you because I am awesome (and clearly so are YOU).
Print this FREE Poster: 10 Ways to Improve Communication with Your Child.
Print out this
free parenting cheatsheet
and place it somewhere you see every day.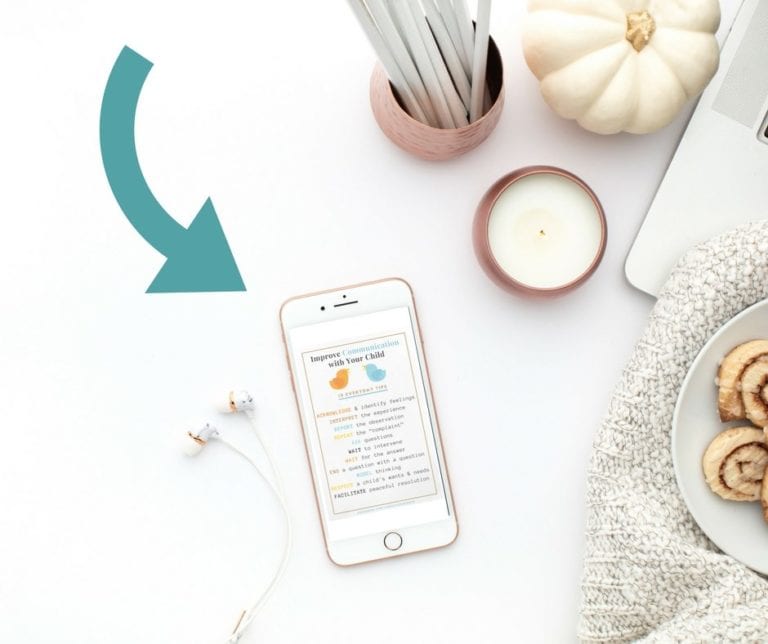 Download Your Free Printable
Download the cheatsheet. You'll get the cheatsheet, plus join 16,000+ parents & teachers who receive my parenting tips and ideas!
Print. Any paper will do the trick, but card stock would be ideal.
Place this cheatsheet in a place you'll see it several times a day.