The Montessori Dressing Frames are a staple in a Montessori classroom. The good news is, though, if you are looking for frugal ways to homeschool, there are ways to produce the work without purchasing the frames. You can create a DIY frame, use a doll and baby clothes, or real objects likes a shoe with lacings. Below is a lesson for the Montessori Zipping Frame
.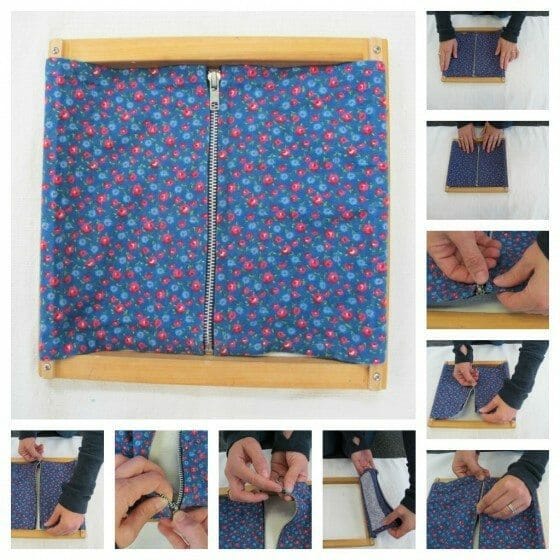 Zipping Frame Lesson
Have child bring frame to table.
"Wood."
"Fabric."
"Zipper." Grasp top of zipper with thumb on top, fingers on bottom.
Slowly pull zipper down
Carefully complete
Gently pull metal piece from channel.
"Channel. Separator. Tab."
Pull apart flaps. "Open. Close."
Hold base firmly, take tab in other hand and zip up slowly. Exaggerate the slow movement, making sure the child sees the "teeth" engaging.
Other Montessori Dressing Frame Lessons
Zipping Frame Resources
For ideas on how to create DIY & Alternative Dressing Frames, Deb at Living Montessori Now has a wonderfully resourceful post on the topic.
If you want to purchase frames, check out the following resources:
For more Montessori Practical Life Lessons —>>
Best,
Marnie
P.S. My friend, Dayna, recently opened up her FREE Behavior Workshop. It only happens twice a year. You don't want to miss out. Trust me. Learn more and join here...
The FREE Behavior Workshop.