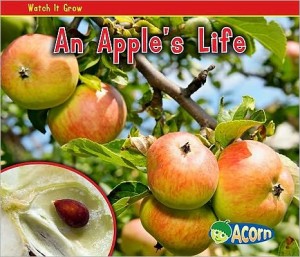 An Apple's Life by Nancy Dickman is part of the Watch It Grow series, which I recently discovered at our local library. This book takes the reader through the lifecycle of an apple with real images and simple language. An Apple's Life is geared towards pre-schoolers on up to elementary schoolers but the images can be enjoyed by younger children too. My son likes to eat apples, "big, huge ones" and slices, which we try to cut together. We are also going to be painting this week using apples so I thought this book would tie in nicely.
A few things I love about this book:
– The images clearly identify what the text describes below it. For example, on the page discussing seeds there is an apple cut in half with an arrow clearly pointing to the seed.
– Many of the photographs include children involved in the process, like watering the plant, for example. My son responded to that detail.
– I love the life cycle symbol. Including a final life cycle image showing the whole process is a helpful and clear visual for children, at least it was for my child and me!
We also love Apple Farmer Annie by Monica Wellington, which is a nice tie into this topic.
Have you guys checked out the reading challenge over at No Time for Flashcards, my friend, Allie's, super cool blog? You should…
Happy Reading!
Marnie