I saw this idea on Pinterest and couldn't resist it. The simplicity was beautiful. The cost (erh…practically nothing) was appealing and I knew that our one year old would be into the activity. As it turns out so is our 2.5 year old.
A can or container: Conveniently we had recently emptied a can of our favorite pancake mix.
To get a sense of size (big, small, medium, too big, fit, etc), I cut three different sized holes in the cover of the can with an x-acto knife. I poured different sized and different colored pom poms into a separate container and let them begin the process of transferring the pom poms. It was nice to watch.
What pure and simple fun. My 2.5 year old began teaching my one year old how to "do it". "Like this…" and teaching him colors, "This is purple…and this one is green…" and teaching him size, "This one is big, this one is small…"
Pretty awesome and easy stuff.
Thanks for visiting,
Marnie
Subscribe Today!
Join over 16,000 parents & educators receiving a weekly dose of Montessori learning, inspiration, parenting love. I promise not to spam you because I am awesome (and clearly so are YOU).
Print this FREE Poster: 10 Ways to Improve Communication with Your Child.
Print out this
free parenting cheatsheet
and place it somewhere you see every day.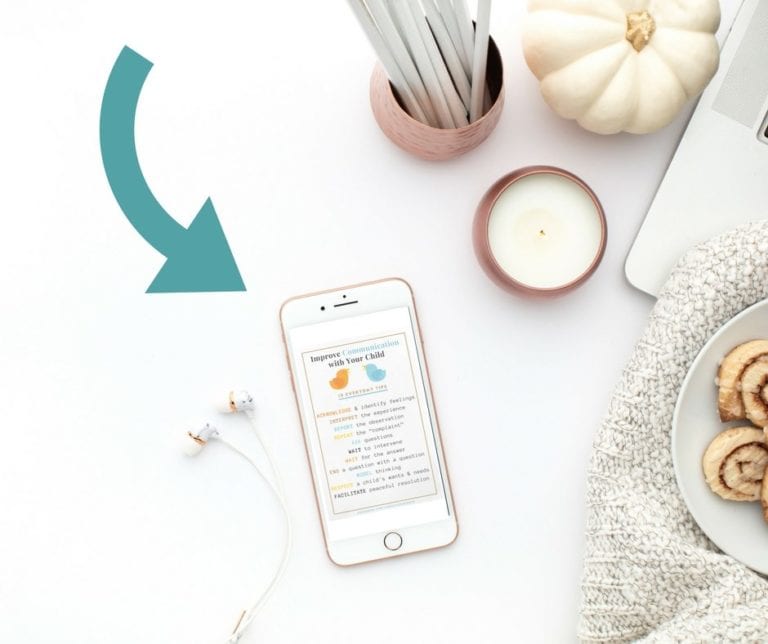 Download Your Free Printable
Download the cheatsheet. You'll get the cheatsheet, plus join 16,000+ parents & teachers who receive my parenting tips and ideas!
Print. Any paper will do the trick, but card stock would be ideal.
Place this cheatsheet in a place you'll see it several times a day.