Believe it or not doing chores with young children is possible. I first started thinking and even writing about kids & chores years ago.
Seriously. Like five years ago. 
My oldest is almost 7 years old.
It is safe to say that I've been thinking about this topic for quite some time. With my background in investment management, I have had the privilege of seeing how family and large endowed non-profit finances work on a big and small level. You can never know how setting up a system is going to work of your family. You have to consider, or maybe even wait to experience how your kids will respond to chores, for example.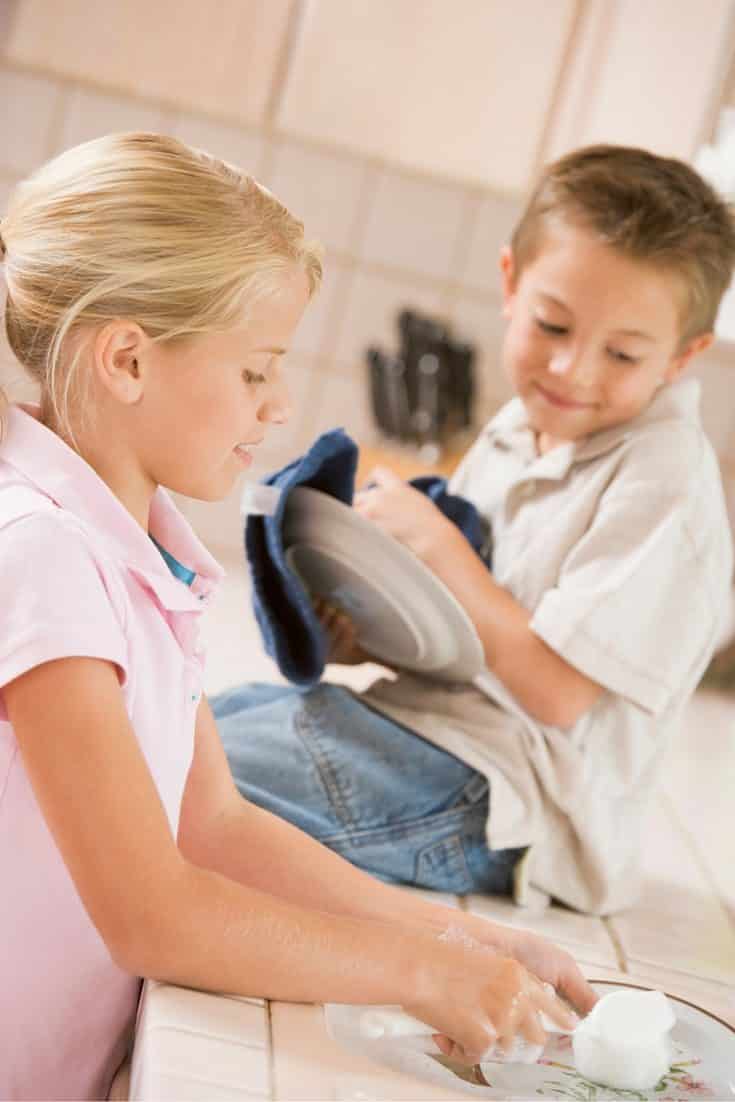 This past weekend, we had a break through. Practically in tears, I watched as my oldest son carefully emptied the dishwasher as I helped my middle son dust our stairs. When my oldest was done with his chore, he entertained my youngest son while we finished our piece of the family contribution for the day.
And you know what? 
With my husband away for the weekend, the house actually stayed in decent shape and the laundry didn't pile up because my sons (5.5 and 7) participated in keeping our house in order.
Last night, I thought a lot about this breakthrough. Here are a few of my takeaways for you.
By the way, if you are interested in teaching kids about money, I have a Learn about Money Activity Pack you might like!
8 Tips for Doing Chores with Young Children
Think real time. This one may be a bit controversial. I keep a small pile of one dollar bills and quarters in a drawer in our kitchen. As my sons complete a chore, I pay them in real time by taking a dollar and depositing into their "bank" (which is a medium sized pouch at this point). I make sure they witness me doing this act and we discuss why one chore may be worth a dollar while another may be worth 50 cents or two dollars.
Start small in time and quantity. Don't lay on the chore chart just yet. Ease into it. Ask for one or two manageable age appropriate chores from your child.
Focus on effort. Don't focus on quality (gasp!) at first. Kids may need a lesson or two from us and might also need a bit of time to practice their technique. Don't get me wrong, I do believe a 5-year-old can clean the toilet. It just might take that five-year-old a bit longer at first.
Do chores together. Team work makes the dream work, right? Yesterday as I dusted with my 5-year-old, we chatted about the chore, what it means, what its value might be, and the bigger picture of why the contribution is important. Plus we laughed and talked about life. Making chores fun is key.
Consider the differences between your children. In other words, don't treat all kids equally in spirit, especially. My 5-year-old is full of grit. He will complete that darn chore if it is the last thing he does for the day. A job well done for him means a great deal. My 7-year-old, well, he will complete a chore if he sees the impact it makes on me and his dad. I realize that is toying with him wanting to please us but that is what motivates him. Not pleasing us but making us smile. Seeing us content. That is what drives him.
Give many opportunities to kids. Try different chores on different days at different times of the day…and see what sticks. Then create your system. Any well-made system evolves over time and is amenable to change.
What are your tips & tricks for doing chores with kids?
Marnie
Print this FREE Poster: 10 Ways to Improve Communication with Your Child.
Print out this
free parenting cheatsheet
and place it somewhere you see every day.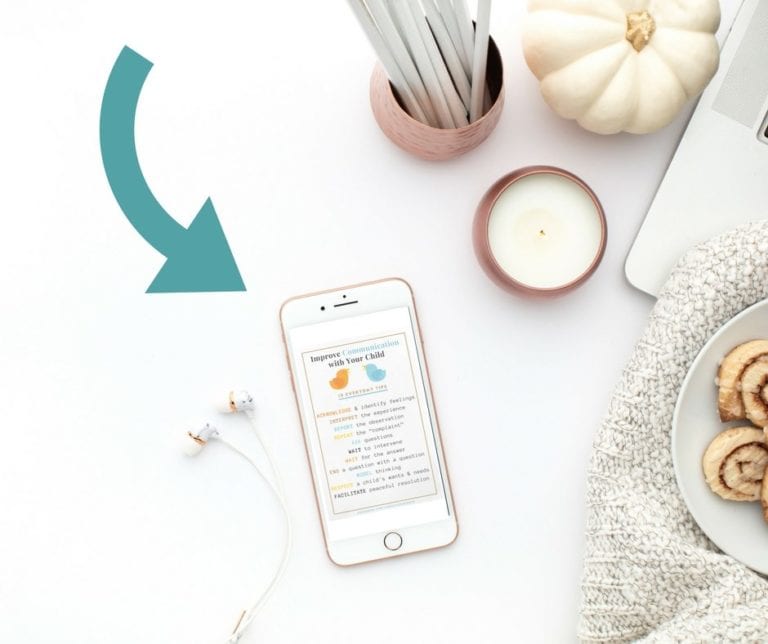 Download Your Free Printable
Download the cheatsheet. You'll get the cheatsheet, plus join 16,000+ parents & teachers who receive my parenting tips and ideas!
Print. Any paper will do the trick, but card stock would be ideal.
Place this cheatsheet in a place you'll see it several times a day.