Have you been trying to determine if a Montessori method is right for your child? This post outlines key pros and cons of the Montessori method.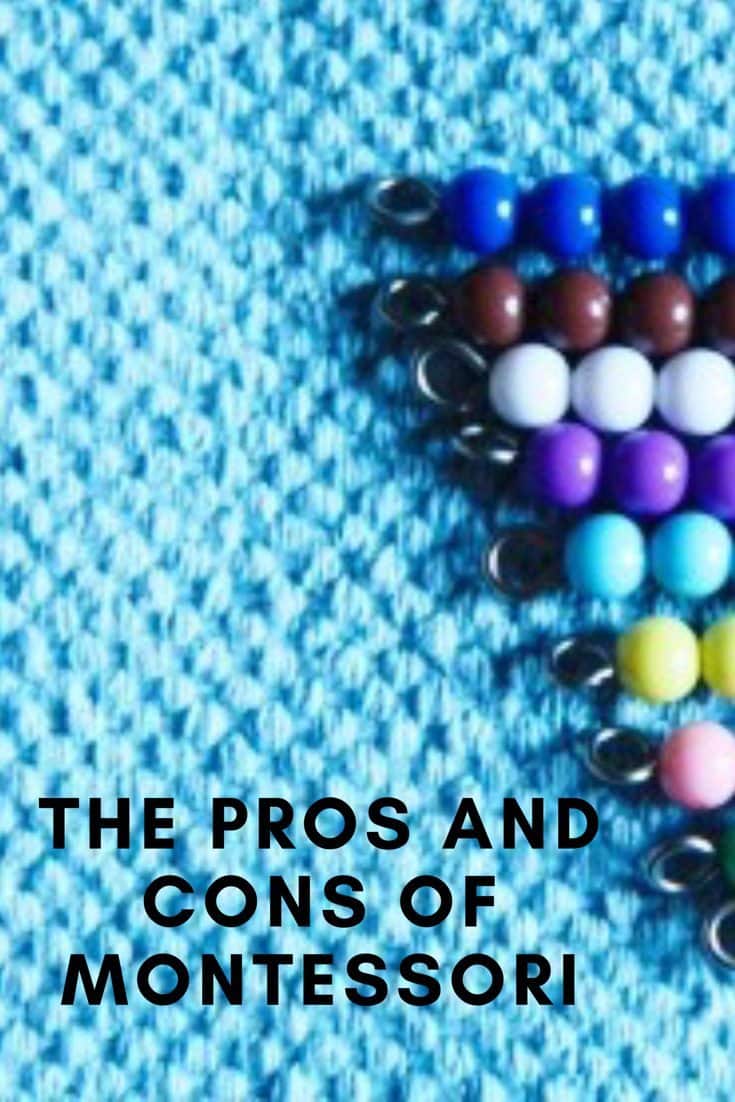 Montessori School Pros and Cons
Montessori is a lifestyle, not only a method of education. Before committing to Montessori, decide whether you will fully embrace the lifestyle and are willing to make changes to your environment and possibly your parenting approach in order to help your child develop his whole self.

The Montessori Pros
There are many positive aspects to a Montessori education.
Children become self-motivated lifelong learners. Children work either individually or in small groups at their level. They gain the confidence and a love for learning that stems from the freedom to choose.
Teachers evaluate each child and his or her individual needs. Each child is seen as a singular entity. He or she has the ability to work at his or her own pace.
Children are presented with a broader range of knowledge about the world around them. They explore topics in geography, history, and science holistically.
Children learn grace and courtesy skills. Through role-play, children learn how to handle real-life situations, such as accepting or declining invitations.
They are able to participate in community service projects and going-out opportunities as they get older. These opportunities allow them to understand the larger community.
There is no "teaching to the test." They are able to explore many different topics and find specific subjects that sparks their curiosity.
The multi-age learning environment is unique and a key aspect to Montessori. Older child have opportunities to develop social, emotional, communication, and leadership skills by working with younger children. Younger children benefit from the approach, too.
The Montessori Cons
It is important to be critical, too. Here are a few ideas to ponder:
Some students may have difficulty in learning math facts. Children learn concrete concepts from their time in the primary classroom. They learn operations using the decimal system, understanding the reason why, for example, 1231 + 5295 equals 6526.
Students in a Montessori environment are in a small community and oftentimes spend years with the same peers. This can translate to children developing amazing friendships or it can be a constant learning environment for the development of social skills.
Students may find it difficult to adapt to other schools should they leave before the end of the three-year environment. Because there is a continuum of learning, transitioning at a time when the child has not developed the skills he or she needs to be successful in the other classroom can be difficult.
Deciding on a Montessori environment requires thought and commitment, but will ultimately be a beneficial one, not only for the child but for the entire family.
Marnie