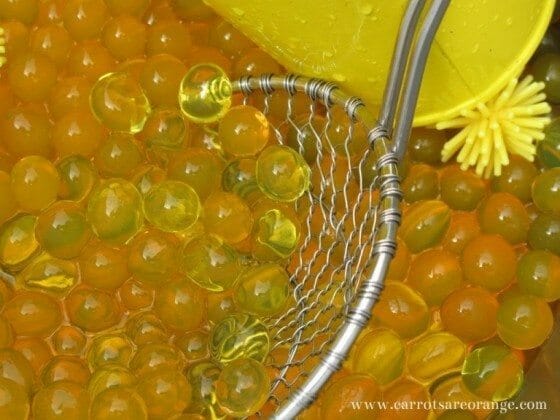 Our June sensory tub made us so happy. It was bright and cheerful. It brought a lot of joy to us.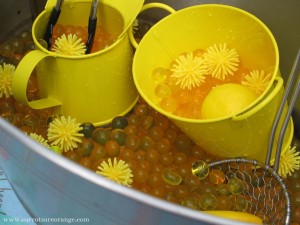 So I dug out our supply of water beads and went nuts filling a galvanized tub.
We explored and squeezed and bounced the water beads.
Tablespoons helped for scooping. My boys enjoyed carrying a single water bead to our water table.
We used tongs for to transfer the yellow porcupine balls and the slippery water beads.
Inevitably, the water beads ended up in out sensory table along with the porcupine balls and a little bit of dirt from our yard. The boys had an amazing time feeling the beads, transferring the beads, squishing the beads and throwing the beads. That is to name just a few things.
Are you doing any fun sensory activities this week? Leave a comment, I'd love the inspiration!  If you want more sensory tub ideas, check out 20+ here!
Thanks for visiting today. I hope that we inspired you.
Marnie
Download Raising Montessori
Subscribe to our email list & download the 75+ ways to Montessori parenting.