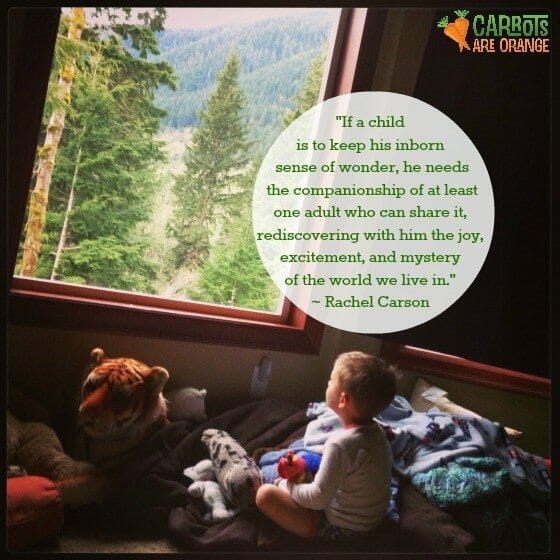 This is a Sponsored post written by me on behalf of Kiwi Crate. All opinions are 100% mine.
One of my big goals this coming year is to find ways to create a Montessori Outdoor Learning space for my sons. I am not "crunchy". I am not "crafty". I am not even particularly organized to be totally honest. I just truly believe in the power of nature:
The impact of nature on the spirit and the body has been well documented by research. The impact on a child's development and learning has also been supported strongly by research and educational philosophies from around the world. Getting a child to interact with his environment through the senses is best for brain development emotionally and cognitively. Achieving this environment in your home or classroom does not have to be difficult. Below are a few ideas to get you started on creating in outdoor learning environment at home.
"Children are born naturalists. They explore the world with all of their senses, experiment in the environment, and communicate their discoveries to those around them." ~ The Audubon Nature Preschool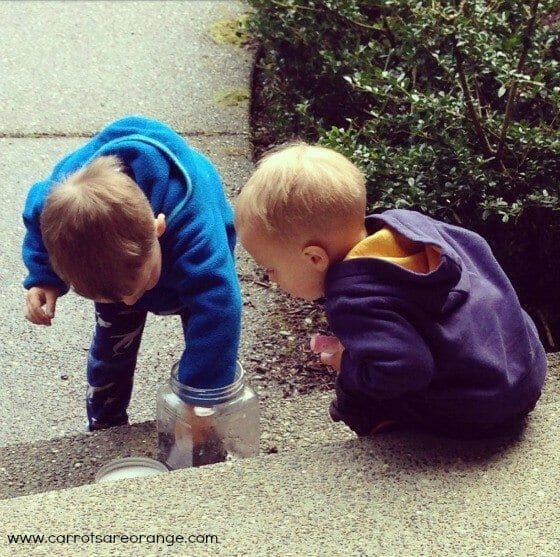 When I think about immersing nature in our home and learning, I think about activities but I also think about space and gear. I live in Seattle. So, I especially emphasize the gear because in case you haven't heard yet: there are a few overcast days in this lovely Puget Sound area. Hey, there is no such thing as bad weather, just bad clothing, right?
"Children are born with a sense of wonder and an affinity for Nature. Properly cultivated, these values can mature into ecological literacy, and eventually into sustainable patterns of living." ~ Zenobia Barlow, "Confluence of Streams"
I believe strongly in integrating this approach. The impact will be positive on my home but, not to sound too dramatic, also the world. If I can "spread the word" and make these types of ideas accessible to my readers, at the very least, then terms like "nature deficit disorder" will become a thing of the past.
Ways to Create an Montessori Outdoor Learning Space
Here are a few simple ways you can begin creating your "outdoor classroom" at home and at school:
Nature Walk – Get inspired by simply going outside and opening up your senses. You will be surprise at what you and your child notice about the environment once you shut off devices and, well, your mind from all the business in today's fast paced world.
Collect Specimens – We use a really cool Nature Collection Box supplied to us from Kiwi Crate. My older son not only decorated his own Nature Box, he also constructed it. Kiwi Crate provides crayons and adorable images for collection.
Tent or Weather Proof Tee Pee – One of the best things we've done in the past year is to set up our tent in the backyard. We spent many an afternoon with rain down pouring outside in our tent reading and telling stories.
Purchase the Right Clothing – Make the commitment to be outdoors more often by adding to your wardrobe. If you have the right clothing, you will look forward to going out to explore even on the tougher climate days. Get good rain boots and jacket. On really hot days, wear a hat! Always carry an extra pair of socks in your pack and prepare for mud and wet on the rainy days.
Add Tree Stumps to your Environment – An inexpensive way to add a bit of nature to your space, tree stumps are wonderful for balance an gross motor skills, art and woodworking projects. Tinkerlab writes a great little post about adding tree stumps to a learning space.
Woodworking: These activities not only hone fine motor skills but also help children develop confidence and a sense of self sufficiency. A wonderful book I highly recommend is called Woodshop for Kids by Jack McKee. Your space doesn't have to be fancy, just a piece of wood, hammer, nails and safety goggles is a great start.
Stargaze – There is something magical about the constellations. Read this lovely book called Seeing Stars by Dandi Daley Mackall to get inspired and learn the great myths of the sky with your children. Kiwi Crate's June themed Box includes a wonderful "tin punch-style" lantern that your children build and embellish themselves with a star hole punch. The lantern really lights up, too. A great, hands on way to truly ignite your children's learning about the stars in the night sky. Really easy to join Kiwi Crate!
Nature Journal – Document with a journal through words, specimens collected along the learning path, drawings, images or some combination.
Get a Closer Look – Grab a magnifying glass (like this one from Learning Resources ) to hone in on the finer details of what nature has to offer us.
Keep Wide Parameters for You and Your Kids – Be flexible and organic with the day. In a true Montessori sense, observe and follow the child. If you create the environment something inside that child will ignite his learning and his desire to explore the world.
I know life is very busy for most of us. We all want the best experiences for our children but there just aren't enough hours in the day. Kiwi Crate is your answer. I was thrilled to discover them and their crates are a staple. Gorgeous crates delivered straight to your door. The projects are full of learning and fun for the whole family. Take a moment and check out sample crates from Kiwi Crate.
Thank you for reading! I hope we inspired you today!

More about our Sponsor, Kiwi Crate
From the Founder and CEO of Kiwi Crate, Sandra Oh Lin: "Kiwi Crate was built out of a passion for hands-on fun that encourages creativity and curiosity in children. I had a deep appreciation for these projects, but often found that my greatest intentions fell short. It was tough to find the time to come up with engaging hands-on activities, let alone get the materials.
So, as I started to develop creative projects with my kids, I thought, "why not share them with friends, who are also busy?" At playdates, the kids had a bunch of fun, and the parents appreciated having all of the materials and inspiration for the projects provided. Several parents mentioned, "I wish I could do this at home with my kids!"
Kiwi Crate was created to fulfill that wish and to celebrate kids' natural creativity and curiosity. We want to make it fun, easy, and delightful to spend time building, exploring and creating together. Since its inception, the Kiwi Crate team has grown. We've added creative parents who dream up the projects, valued experts who review them, and a community of kid testers who keeps us on our toes and ensures the projects are fun and engaging.