A relative visited us recently. With him, he brought the three books you will find in this post. We're always in the library and I am always researching on the internet for new book discoveries. So, when three walk into my house recommended by a friend, I am on it. These books are no exception. They teach children important landmarks, geography, and what it takes to create such magnificent structures. This post includes our favorite Books to teach kids about Gaudi & other famous architects.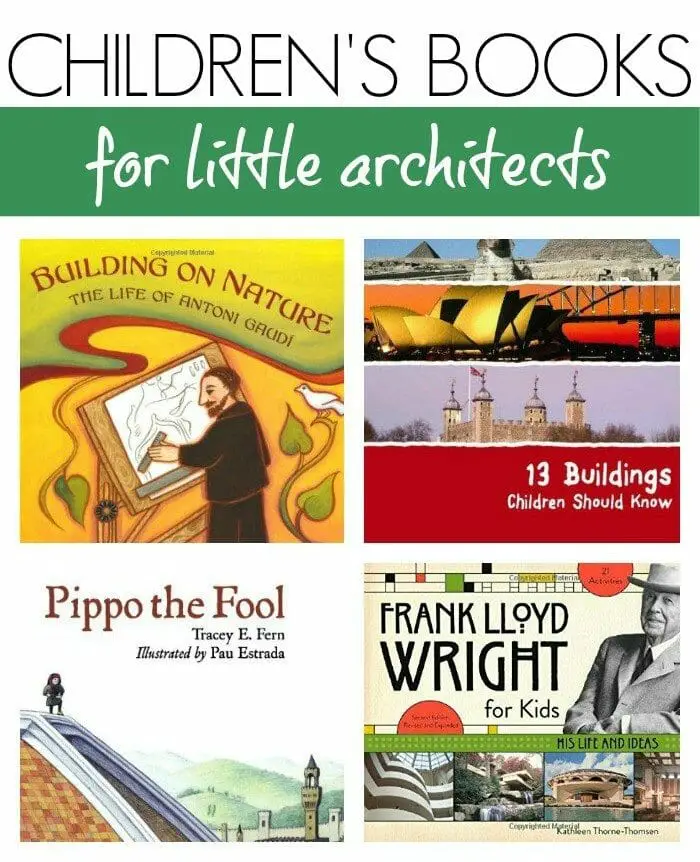 "Those who look for the laws of Nature as a support for their new works collaborate with the creator." ~ Antoni Gaudi
Books To Teach Kids About Architects
Pippo the Fool
is an inviting and warm book to teach children about an architectural feat that greatly impacted building and engineering going forward. The story is fictional and tells about young Pippo Brunelleschi, of Brunelleschi's Dome fame, determined to be rid of his nickname "Pippo the Fool".
He decides to enter a contest to build something that had never been achieved before. So, not without obstacles, Pippo sets out to engineer his famous "Duomo". Children walk away from this story learning about dreaming big, having courage, being resilient, and staying true to your talents and passions. The age range is 5 to 8 years old.
13 Buildings Children Should Know
is beautiful. I am a big fan of real images. This books certainly satisfies that criteria for me. The book draws children into its page with these images and weaves into the pages historical facts and background information for children to devour.
For younger children, simply taking a walk through the pages is enough to intrigue them. For older children, there is enough to ignite their desire to want to learn more. There is definitely a lot of information included in this book. I recommend choosing tidbits here and there for the younger audience. The publisher recommends 11 years old and up.
I fell in love with Gaudi on a trip through Europe when I was in college. His work in Barcelona has stayed with me for nearly twenty years, etched into my brain as being some of the most magnificent pieces of artwork I've ever seen. So, I was thrilled to get our hands on Building on Nature: The Life of Antoni Gaudi
.
Even though Gaudi lived over 150 years ago, the reader is brought into his realm by offering stories and facts about Gaudi to kids. The author uses the present tense and beautiful language to captivate us. Along with the text, the book's colorful illustrations capture the essence of Gaudi and help us get to know Gaudi, his influences, such as nature, and how he came to be an architect in his own way. The recommended age for this book is 5 to 8 years old.

Frank Lloyd Wright for Kids: His Life and Ideas
is a great companion book to 13 Buildings Children Should Know. The writing is simple and tells us about life – the obstacles and the influences – of this famous architect. Like Gaudi (and I suppose many architects), nature impacted Wright in a big way. The book includes 21 hands-on learning activities for children to truly dig deep into engineering and architectural design. The age range is definitely on the higher end, but, as with many books, you can cater this one to a younger crowd.