Our son is 3.5 year old and is prime for reading and writing. Montessori aside, we are big fan of Miss Rhonda's Readers. The First Readers are sweet stories and adorable, colorful illustrations that lure my child every time. As a way to integrate my son's writing into his reading, I began making Printables (with permission from Miss Rhonda herself) to go along with the books. Just because I love you, I am offering these printables to you FREE. Here are the first sets FREE PRINTABLES from Miss Rhonda's Readers from Set One: Sniff! Sniff! Tracing, Sniff! Sniff! Letters, Pink Pig Tracing, Pink Pig Letter. The rest will come shortly.
We've been doing reading & writing activities over the last six months. Here are a few of my reading & writing readiness posts:
Here are a few of my all time favorite early literacy blog posts from my favorite writers, parents and educators:
I adore Miss Rhonda's Set ONE
and Set TWO
but her Words Cards and Set Three, a Chapter Book, are fierce rivals for that adoration.
I encourage you to take a look at Miss Rhonda's Readers. Miss Rhonda and her illustrators bring a freshness to First Readers unlike other early reading books I've encountered along my path. You will be pleasantly surprised at her work, Montessori or not.
Thank you for stopping by today. I hope that we inspired you.
Marnie
_____________
This post is brought to you by Miss Rhonda's Readers, where you can sit down with Miss Rhonda and learn to read the Montessori way, Miss Rhonda is one of my lovely sponsors. Be good to them and go check out their wonderful products. You will be happy that you did it.
I shared this post on: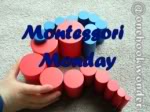 Marnie began Carrots Are Orange in 2010 after the birth of her first son. Carrots Are Orange is a Montessori inspired homeschooling blog for parents and educators. She hails from Maine, a wonderfully down to earth place to grow up. Marnie moved to the west coast in 1999, currently living in Seattle with her husband and two young boys. She is pursuing Montessori certification.
Latest posts by Marnie Craycroft (see all)