Maria Montessori believed nature was inspiration for learning. As many of us witness on a daily basis, children are fascinated with nature. Montessori encouraged teachers to take their classroom outside and to get the children out into nature because there is a lot to learn but also because it inspires a "natural" desire to learn.
So, with that said, now that the rapid change of seasons is upon us (well, at least here in Seattle) and the temperatures declining at a fast pace, I am more conscious of making sure we get outdoors for exploration and some days simply for fresh air and a bit of sunlight. So I am particularly focused on our Nature Basket.
My two year old is definitely interested as we've added items he's collected over the past several months. The basket is a lovely reminder of place we've traveled and explored and also a reminder of the great outdoors. I imagine as my sons grow older they will be a bit more into the concept but for now simply seeing the collection is joy enough for this household.
Creating a nature basket is super easy to do! All is takes is a basket (I purchased this one at Goodwill for $1.50) and items collected from the outdoors like shells, rocks, pine cones, etc. We place our basket out in the open so that it simply exists in our space.
Thank you for reading!
Marnie
I linked this post up at: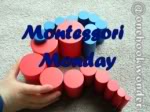 The following two tabs change content below.
Marnie began Carrots Are Orange in 2010 after the birth of her first son. Carrots Are Orange is a Montessori inspired homeschooling blog for parents and educators. She hails from Maine, a wonderfully down to earth place to grow up. Marnie moved to the west coast in 1999, currently living in Seattle with her husband and two young boys. She is pursuing Montessori certification.
Latest posts by Marnie Craycroft (see all)