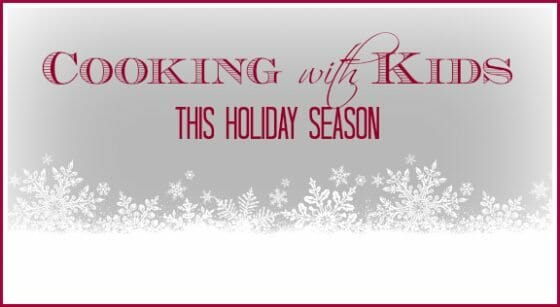 This guest post by Meredith K. of Orville Redenbacher's® offers us a great opportunity to not only create a delicious holiday treat but to also involve our children in the holiday preparations. Enjoy!
The holidays are coming up, meaning that cookie-baking season is in full swing! Holiday baking is not only one of the yummiest parts of the season, but it's also one of the best ways to bond with your child and get kids into the kitchen—most kids will be more than willing to participate in any activity that involves a sweet treat at the end of it!
But holiday baking can also get messy quickly, and can sometimes be too complicated for little hands to deal with. This is no reason to not cook with your little ones, though! Instead of trying to bake your 20-step, 7-layer bars with a toddler, look for easy recipes that don't risk a bag of flour exploding onto the floor and that contain steps that kids can help out with.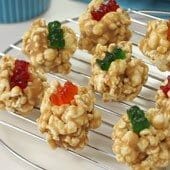 This recipe for no-bake Peanut Butter Popcorn Poppers is the perfect recipe for kid-friendly baking this holiday season for a couple of reasons. First of all, kids will love that these treats are made with peanut butter, gummy bears and popcorn, all of which tend to be familiar, kid-approved foods. Another great thing about these poppers is that they're easy for kids to help create. They'll love stirring the peanut butter mixture, rolling the sticky popcorn mixture into balls, and using their fingers to make indents in the poppers for gummy bears. Keep them around the house for a sweet treat or give them out to friends and neighbors as holiday gifts this year. Happy baking!
Peanut Butter Popcorn Poppers

1 2.9 ounce bag Gourmet® Butter Microwave Popcorn (11 cups popped)
PAM® Original No-Stick Cooking Spray
1 cup light corn syrup
¾ cup Peter Pan® Creamy Peanut Butter
Bear-shaped real fruit juice gummy candies

Approach:

Prepare popcorn according to package directions. Remove all unpopped kernels. Place popped corn in a large bowl sprayed with cooking spray; set aside.
Heat corn syrup in a small saucepan over medium-high heat; bring to a boil and boil for 3 minutes. Remove from heat and stir in peanut butter. Pour the mixture over popped corn, tossing gently to coat evenly. Let cool for about 5 minutes.
Spray hands with cooking spray. Gently roll the popcorn mixture into 1-inch balls. Press your thumb firmly into the center of each ball to make an indentation for the candy insert. Place 1 piece of candy in the center of each cookie. Serve immediately and enjoy!
Thanks for reading!
Meredith K. writes on behalf of Orville Redenbacher's®. For this recipe and other holiday popcorn recipes that kids will love, visit www.orville.com.
P.S. My friend, Dayna, recently opened up her FREE Behavior Workshop. It only happens twice a year. You don't want to miss out. Trust me. Learn more and join here...
The FREE Behavior Workshop.