Looking for some quick and easy, possibly even last minute, Memorial Day activities to do with your preschooler? Here are a few…
Star Patterning – I bought stickers, placed them in various patterns on a piece of card stock, laminated the card stock and then cut the laminated sheet into rows. I left out a few stars in row pattern so that my son could identify which color star should be placed in that spot. I was inspired by this post and the FREE printable on Pinterest. If you have access to a printer, this approach might be easier.

Patriotic Memory Game – I bought USA flag and star stickers, grabbed a piece of blue card stock, cut it in business card sized pieces, created two identical cards with the stickers and laminated the card stock. We began this activity by investigating the cards and finding the matches.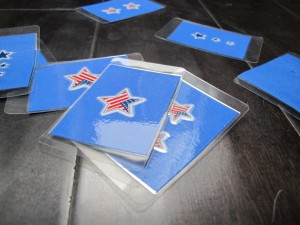 Then we moved onto the memory game. I had ten matches to start.

Washington Monument – My son loves world monuments. We have these wonderful figurines and cards that he enjoys very much. I thought the Washington Monument was a good place to start tying in geography, history and the significance of this holiday. We looked at a world map and our World Atlas iPad app. Lucky for me the Dollar Tree store had these great National Monument cards perfect for Memorial Day. I used these cards to more specifically talk about Lincoln, the Wall and Washington D.C.
Music – Every Memorial Day there is a lovely National Memorial Day concert. We'll be tuning into our local PBS station.
Patriotic Action Cards – I fell in love with this idea from Oopsie Daisey. Inspired by Oopsie Daisy, we made our own "Patriotic Action Cards" with flag waving, drum beating, bell ringing, stars twinkling, eagle soaring and legs marching and affixed them onto a jumbo die. We each took turns rolling the dice and performing a movement.
Flag – I wrote about the easy and fun American Flag we whipped up the other day. My son is really proud of it. He points to each flag we see and says, "we made one of those flags, mama." Heart melting.
Books – I published a post on two of my favorite books to teach young children (age 4 and up) about this important holiday.
Thank you for choosing to read this post today. I hope that we have inspired you.
Marnie