Spooning is a Basic Exercise within the Practical Life area of a Montessori classroom. One of the first lessons introduced in the early childhood classroom, this work further develops focus, concentration, visual and fine motor development. The spooning work will also help a child master the three finger grip and thus prepare him for activities outside the Practical Life learning area. This work is fantastic because there is a lot of creativity you can throw into the mix depending on materials available, interests of children, and themes throughout the year.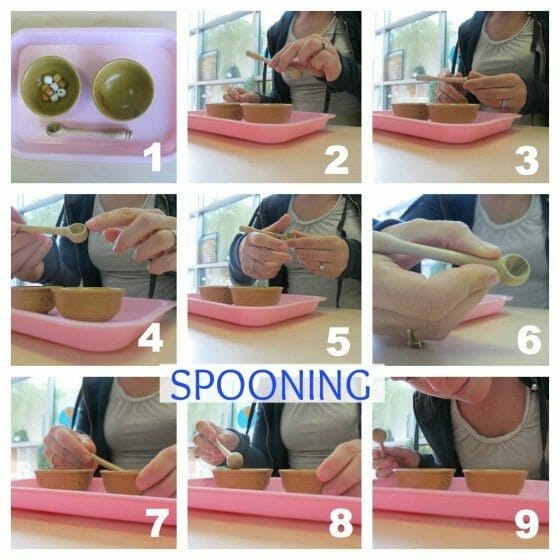 Practical Life Spooning Lesson
Go to the shelf, remove tray and walk carefully to a table.
Identify objects on tray: "This is a bowl with objects in it. This bowl is empty. This is the spoon."
"This is the handle."
"This is the spoon."
Place the spoon in the dominant hand, holding out thumb and index finger in L shape and placing the handle in the cradle
Grasp the neck of the spoon with the ends of thumb and index finger.
Turn and lift spoon to gather beans or beads (from left bowl).
Move slowly above empty bowl on right. Repeat procedure until all beans have been transferred.
Check to make sure all objects have been moved from left to right. Repeat, moving objects back to original bowl.
"A three-year-old educated according to Montessori pedagogy, becomes a master of his hand and undertakes with a joy a variety of human activities.  These activities allow him to develop the power of concentration." ~ Dr. Montessori
Practical Life Spooning Variation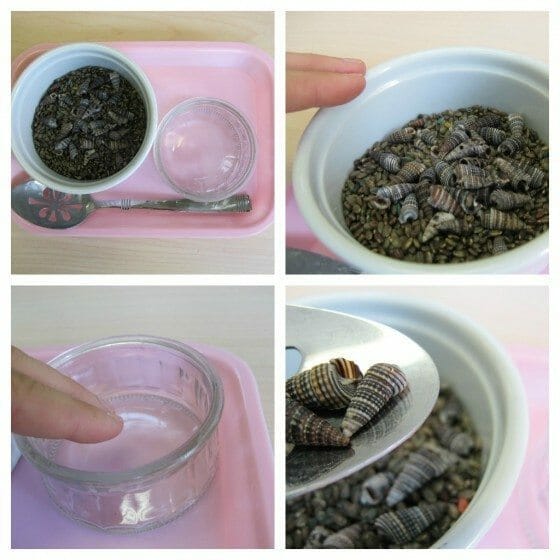 I adore this Spooning variation sifting shells from grains.
Montessori Services has a great Montessori Spooning Starter Sets available for purchase at a very reasonable price.
For additional DIY ideas, lesson and inspiration, check out my Montessori Practical Life Pinterest board.
Best,
Marnie
P.S. My friend, Dayna, recently opened up her FREE Behavior Workshop. It only happens twice a year. You don't want to miss out. Trust me. Learn more and join here...
The FREE Behavior Workshop.