---
This post is meant mostly to be funny but my goal also is that this post can be somewhat educational for you all about to embark on the beautiful journey of potty training. Although highly entertaining, I can assure you the facts presented in this post are all true.
Use of Media –
I learned this one the hard way. We thought 'how great? We'll put his potty out, his little table and…the iPad.' At first we had extraordinary progress, although in retrospect now I know that this progress was merely a coincidence that his bum was on his potty at the right time (or for a long time. These toddlers are smart. They figure stuff out fast. Hhh…Potty=iPad? No problem.). I swear the kid would sit on his potty for HOURS if that meant being able to own the iPad. He figured that fact out very quickly. The day we put an end to the iPad Potty approach was the day he stood up and exclaimed, 'I'm goin' pee pee, mama!' and, yup, he was….all over the iPad. I made my bed and I will sleep in it.
Use of Books –
I am not sure how much a child can learn about what an oncoming poop feels like from reading a book about going "poopy". Somewhat educational, I guess, but honestly, kids learn through modeling behavior. So, yes, too much information, but they will learn by watching you.
Use of Other People's Advice –
Every child is different and every parent is different. Even if a parent tells you they participated in a "potty training boot camp" and their child was good to go in three days, let's be honest, they probably aren't telling the whole truth. If a parent tells you their child was potty trained at 14 months, good for them. If someone tells you that their boy will be harder to potty train than your girl because well, boys are harder to potty train than girls, just nod your head. Like a lot of experiences in parenting land, this one will be your own. Put down the books and, sure, gather information on what worked and didn't work for your friends if you want, but really, we all should stop talking to people about it. Pay attention to your child and you'll know when to move forward.
Chances are if your child can eat, drink, read, talk and watch the iPad while he is on the potty, then he is not ready.
There are so many factors involved in potty training: life circumstances (new sibling, a move, travel, illness, etc), your child's development, your capacity and so on. My biggest piece of advice is "Don't Fret". Your child and you will come to an agreement one day. In our case, we were not so much in control of the timing. Maybe your situation will be different but our son very much controlled the experience.
Here is our bullet point Potty Training journey:
@ 17 months, J started showing interest in the toilet. So, I bought Bjorn's handy potty and a few children's books for him to read to get up to speed on the topic (um…okay). I thought, wow, wouldn't it be great to get him out of diapers before #2??
We had little success, maybe once or twice a pee on potty
@ 19 months, after our second son was born, my mother was in town and we were determined to get one out of diapers. God forbid we have two children in diapers at the same time. So we moved full speed ahead. Again, had little success (e.g. the Ipad Incident) but with the little success came great joy that of course must be celebrated. We have a video, of which I will spare you, to show such joy. At the end of the video, J spills the pee and slips in it. Oh joy.)
Sometime within this time I started seeing a therapist. We talked a lot about my first born. He was having some dependency issues (mostly due to our second being born so soon). She advised me that "he is still a baby" so indulge him. Thus, any effort on my part to potty train flew out the window. Why stress?
@ 24 months, I came up with the brilliant idea of potty training my first born and sleep training my first born beginning on the same day. I had a relatively open week so I said to myself, "Bring it." I can handle it. We will get through this part of the journey. My approach with potty training was to remove diapers 100% (using a pull up at night), put on "big boy" (must end use of this phrase) underwear and sweats and see what happens. At some point, I thought, he will get uncomfortable and get the idea. What I learned on Day 1 was that a young boy who is not ready to transition out of diapers will withstand his pants being soaked in pee and even handle a poo in his underwear for as long as it takes for me to get the hint. That was a long day that ended that round of potty training.
@ 26 months, J started becoming interested in not wearing diapers. Mostly he hated having his diaper changed and quite frankly we didn't really enjoy the experience either. We explained that if he went to the bathroom on the potty we wouldn't have to change his diaper. I think he started to get it. Mostly though he just wanted to pee outside, anywhere…in the backyard, the woods camping or on a hike. At this time, though, we didn't push him.
We had a lot of travel the following months so we didn't even think about it.
@ 29 months, about two weeks ago, he asked to use his potty. Thus it began. No more diapers. He only wore his underpants (Thomas the Train). We had very few accidents and those accidents only happened in our home. I left the house once a day prepared for an accident that never happened. At first I had to pay close attention to his signs (mainly facial expressions) to help him basically "remember" that he was wearing underwear and that his potty was in the other room. Within a week he went from needing a reminder to simply walking to his potty on his own without saying a word. He is thrilled with himself. He likes to flush and to wash his hands. He owns the process. My favorite quote during this time: "Oh, oh, Mama! Oh, poopy coming! Poopy coming out of my bum bum! Gotta get to my potty!" as he sprinted past me. Proud Mama moment.
_
So what do I think clicked quite literally overnight? Well, a lot of it is developmental. When they are ready, they are ready. It is  up to us parents to expose them to an environment ripe for that timing (e.g. talking about the experience, buying a potty, etc). I also believe that seeing his friends at preschool use the toilet was a game changer. Peer pressure starts early.
Thanks for visiting.
Marnie
---
---
Print this FREE Poster: 10 Ways to Improve Communication with Your Child.
Print out this
free parenting cheatsheet
and place it somewhere you see every day.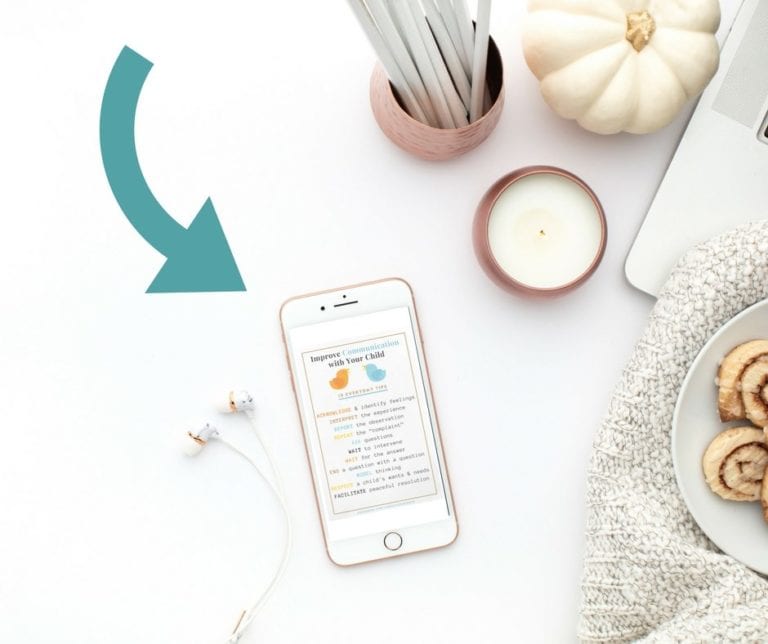 Download Your Free Printable
Download the cheatsheet. You'll get the cheatsheet, plus join 16,000+ parents & teachers who receive my parenting tips and ideas!
Print. Any paper will do the trick, but card stock would be ideal.
Place this cheatsheet in a place you'll see it several times a day.
---