This post includes an easy and fun science of sound activity for kids. My five-year-old is into science. I hope to help him nurture this interest so that he holds onto it for a lifetime. Every day he asks if we can do a science experiment. He loves tactile experiences. So we do lots of chemistry experiments with various materials such as baking soda, vinegar, flour, oil, corn starch, glue, milk, and water (not all together!).
Well, to be honest, lately I have not been in the mood for messy no matter which way I look at it. So, we've been doing lots of physics and physical science, generally. For example, we did loads of life science activities, tested electricity and made a homemade pulley over the summer.
Simple Science Activity for Kids
Download the instructions now.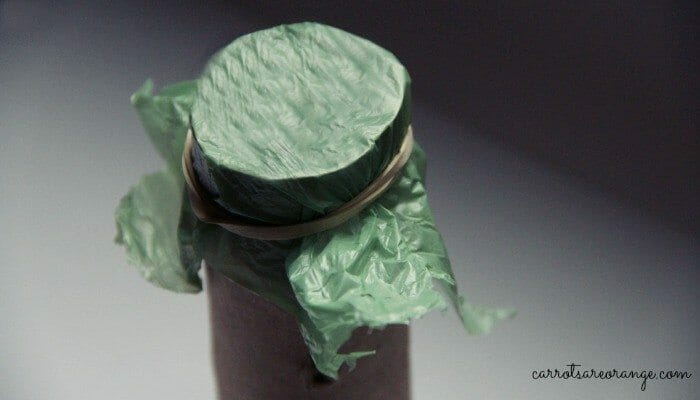 Science of Sound Materials Needed to Make a Kazoo
Toilet paper or paper towel roll
Sharp pencil
4 x 4 piece of plastic (I cut a plastic bag)
Rubber band
Materials for decorating the paper roll (optional)

Steps to Make a Kazoo
Decorate the paper roll (optional)
Poke a hole equidistant from each end of the paper roll
Place the piece of plastic over the end of the roll
Tightly place the rubber band over the end of the roll to secure the plastic
Science of Sound Activity Discussion & Inquiry
Encourage the child to hum through the holes. What happens to the sound of your voice?
Encourage the child to hum different sounds like "mmm", "llll", "rrrrrr", etc.
Hum high. Hum low.
Do you feel anything? Vibration?
Where does the sound come from when you blow through the end? The small hole? Through the plastic?
What happens if we move the placement of the small hole?
Test the membrane: What happens if you use different types of plastic or wax paper for the membrane? Make it tighter. Make it looser.
Test diameter: change the role to be wider, narrower
Test length: change the role to be longer, shorter
Test the size of the small hole: change the role to be smaller, bigger
For More Sound Activities
Download Now!
Grab 25+ Open Ended Questions for Curious Kids by entering your name and email!