I am excited about this Word Family Activity for Preschoolers with you because the language activity combines learning and movement, which supports optimal brain development AND a classroom or home full of active children! Perfect! Plus developing gross motor skills is important and unfortunately being squeezed out of our kids daily lives with technology, especially. So, we are determined to find ways to combine learning and movement, and, of course, to make it fun along the way.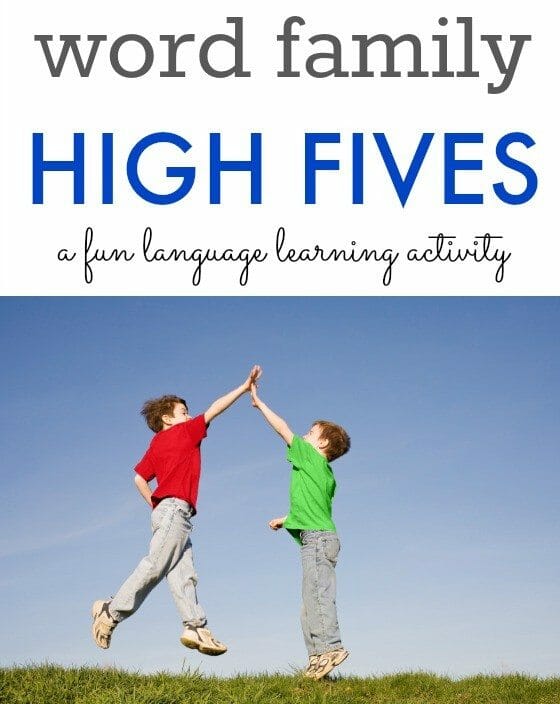 [Tweet "Word Family Activity for Preschoolers"]
Word Family Activity for Preschoolers
Materials
list of word families (optional but helpful)
marker, letter stickers, or stamps
hand cut outs (We bought our cut outs at Lakeshore Learning but there are many types out there. I bought the multicultural hands because I didn't' want to miss the opportunity to teach about our differences.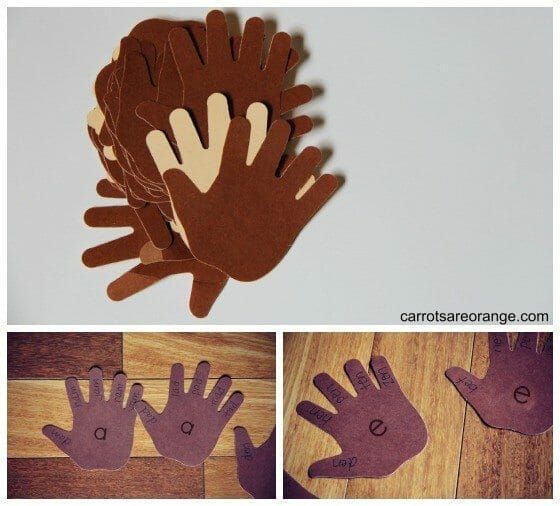 Approach
Prepare cut outs ahead of time with a, e, i, o, and u word families
Pass out the hands to the children (you can have as many hands as you want)
Explain to them that the objective is to find the other children holding the same short vowel sound (you can do this activity with blends, ending sounds, beginning sounds, etc) and to give them a "high five"
Once they find the matches and give them the appropriate "high five", they should take a moment to read and review the family of words
Mix up and challenge them again
Resources for this Word Family Activity

Get Your Dose of Montessori Goodness
Directly & Seamlessly Delivered to You. Let me do all the work.