Here are a few "back to the basics" Montessori Inspired Easter activities. With their lovely colors and texture, we used jelly beans as our base material with which to work, which, in all honesty was a little challenging given their sweet goodness. Keep an almost 3 year old from popping a few in his mouth and I will send you a medal!
I purchased these sweet little pots in the dollar section at Target. So I grabbed a tray, a pair of small tongs (or tweezers would work really well) and a bag of jelly beans. Voila. Great for fine motor skill development.

This one is a very simple pattern recognition, an important developmental skill for preschoolers, exercise.  I grabbed a piece of yellow card stock and markers to match the jelly bean colors.
I first showed my son and then worked with him on creating and recognizing the patterns.
Simple color sorting exercise using the jelly beans and an egg carton.
A simple counting exercise.
The jelly beans made it a bit tricky because they liked to roll. I suggest using contact paper or a tray with indents for the beans.
Of course many jelly beans after being "tonged", sorted, counted and poured ended up on our work blanket.
What I noticed with this organic twist in the exercise is how great the act of picking up the beans, one by one, is for the pincer grip.
Thanks for stopping by my sweet, little blog! I hope we inspired you today! Happy Easter!
Marnie
I shared this post on: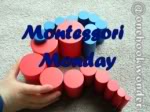 The following two tabs change content below.
Marnie began Carrots Are Orange in 2010 after the birth of her first son. Carrots Are Orange is a Montessori inspired homeschooling blog for parents and educators. She hails from Maine, a wonderfully down to earth place to grow up. Marnie moved to the west coast in 1999, currently living in Seattle with her husband and two young boys. She is pursuing Montessori certification.
Latest posts by Marnie Craycroft (see all)