On most days, I like to have a few activities laid out for my 27 month old to greet him in the morning. One morning last week, I had quite honestly three minutes to prepare something for him. So I grabbed the blue painters tape I eyed on the counter and built a road. By the time I was done creating this magnificent road around our living area, my little guy was as expected standing by me asking, 'what's that mama?' and then answering for himself, 'it's a road!' I added short dotted lines to mark the center of the road and off he went playing and imagining a world where giraffes, dinosaurs, cars and trains marched on the same path. Very entertaining. We even added tunnels with his stools and a garage with an old wipes bin.
You don't need fancy toys to provide your child with great fun and an exercise that aids in development of language and fine motor skills. So, don't fret about creating something time consuming and "out of this world" for your child's activity. Step back, look around your home and watch the beauty of a toddler and a few household items.  With imagination running wild you will delight in the experience.
What we used:
Blue painters tape
Black permanent markers
Trains
Matchbox cars
Legos
A stool
Small figurines of dinos and animals
-
Thanks for stopping by…
Marnie
I linked this post up at: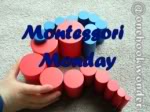 The following two tabs change content below.
Marnie began Carrots Are Orange in 2010 after the birth of her first son. Carrots Are Orange is a Montessori inspired homeschooling blog for parents and educators. She hails from Maine, a wonderfully down to earth place to grow up. Marnie moved to the west coast in 1999, currently living in Seattle with her husband and two young boys. She is pursuing Montessori certification.
Latest posts by Marnie Craycroft (see all)