Community starts at home and in early learning environments such as preschools and churches. These environments are the first places where young children grow and learn within a group. Enjoy this post outlining community helper activities for preschoolers.
Community Helper Activities for Preschoolers – Building Community Early
One group of people that children find fascinating is the community helpers that you see throughout your neighborhood. Preschoolers are practically primed to notice these people and have lots of questions about them. You can draw attention to public service workers (among others). This helps you educate children while building a sense of community around them. They'll grow into that sense of community before you know it. There are many community helper activities for preschoolers that you can easily incorporate into your home or classroom.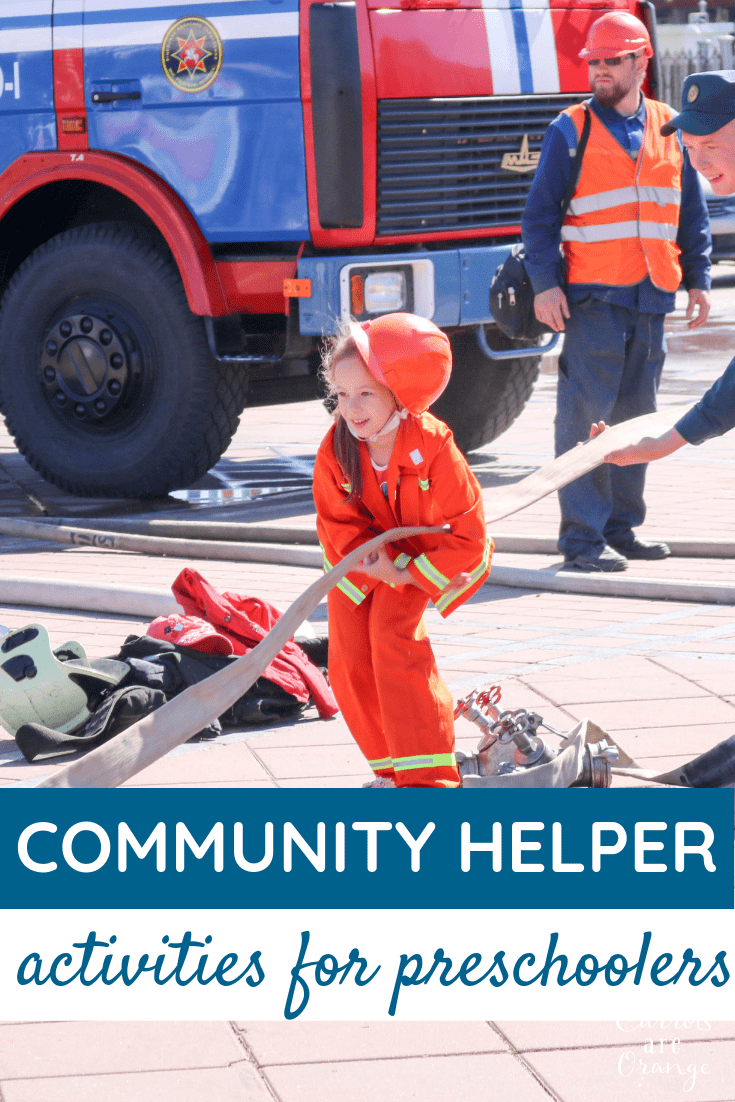 What is a Community Helper?
Before we dive into community helper activities for preschoolers, let's step back and think about the definition of a community helper. A list of local workers can provide focus ideas for community helper activities preschool children really enjoy:
Police
Fire personnel
Garbage collectors
Mail and package deliverers
Utility workers
Snowplow drivers
Game wardens
Animal Handlers
Dog walkers
Librarians
Lawncare personnel
Construction workers
Road crews
Taxi drivers
Crossing guards
Doctors, dentists, and nurses
People who work in grocery stores
Teachers, of course!
This isn't an exhaustive list. You may have other community helpers in your area. Once you've noticed them you can help your child notice them as well. This happens pretty naturally as a parent drives around town with the child watching out the window in the back seat. Perhaps you spot a police horse. Perhaps they see window cleaners high on a tall building.
Don't think that helpers have to be public servants. Some businesses may provide ideas for neighborhood helpers. Seeing a helicopter may prompt a discussion, and so can watching a person assist a disabled member of the community.
Community Helper Activities That Help Preschoolers

The community helper activities you use can go far beyond a quick discussion in the car. It pays to take the time and test the waters, so to speak. If you pulled off the side of the road and watched some local construction work going on, would your child be keenly interested? Or bored and restless? This is a good indication that this is a topic for you to bring up soon, or to shelve for another day.
11 Community Helper Activities for Preschoolers
You can build on the interest of children with everything from the simplest activity to something more involved:
Coloring and drawing pages
Toys of people who serve communities
Visit community centers like the police station
Watch (from a safe distance) construction, boats, planes and trains
Ask people to visit your school environment and give a demonstration
Use learning websites that explore neighborhood helpers
Talk to and get to know neighborhood regulars like garbage collectors and mail deliverers
Set up a grocery store or post office at home or at school
Read books about helpers and workers
Make puppets
Set up an animal clinic with stuffed animals
Some of these activities can turn into community building, like when you offer cold soda pop to the garbage collectors during hot weather. Saying hello to the mail deliverer demonstrates safe ways to talk to strangers. In addition, it offers service-oriented people as a resource for a child should they find themselves in an unsafe situation.
Why Focusing on Community Helpers Is Important
Teaching your children about the many people who serve within your local community works on several levels. As a safety lesson, these activities prepare children to be actively engaged in their personal safety. Additionally, these people provide ideas for children who think about what they want to be when they grow up.
Children need opportunities to interact with the people in their environment and explore their world. Many of these workers have very exciting jobs! They all do important work to make the community safe, orderly, clean and useful.
You never know when community helper activities for preschool children may develop into a service project of your own concerning littering, animal safety, or anything else that catches the attention of your children. Community helper activities for preschool children may be the beginning of a long-lasting love for service personnel and future job exploration. Boys and girls can see how they can serve the community. Their awareness grows and this, in turn, helps them become better citizens later.
Community Helper Resources