How much do we love sensory tubs? This month is a fun one because we have Halloween!
Here is what we included this month:
Orange colored rice (I have a 30 lb bag of rice stored away for these occasions. Coloring rice is simple. Food coloring or gel, a little vinegar, a plastic bag and bake at a low temperature or let dry overnight.)
Black beans (beans from farmers' market tucked away in our cabinet)
Mini pumpkins (local grocery store)
Baked pumpkin seeds (from a gutted pumpkin)
Various sized black and orange pom poms (ordered a huge bag from Amazon. Super inexpensive.)
Rubber insects, mice, spiders, bats and skeletons ($1 per package at Target)
Misc. shiny Halloween table scatters (Target)
A scoop (already own)
A cup (already own)
A pair of mini tongs (already own)
A mini ladle (already own)
A tablespoon (already own)
Action shot. The boy loves (ah-hem "to throw") his pom poms.
Digging, digging, digging.
Not sure what is going on here, maybe stretching a skeleton, but it sure looks fun, doesn't it?
Thanks for visiting!
Marnie
I link up at these parties each week.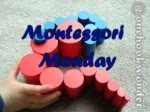 Gain Access to Dozens of Printables!
Beautiful & engaging downloadable Montessori materials at your fingertips when you subscribe to the CAO newsletter.
You will receive an email with access information once you subscribe.