Creating a Montessori-inspired bathroom is a wonderful way to promote independence, self-care, and a child-friendly environment.
This post outlines a few ways to create the perfect Montessori bathroom. Creating a Montessori at-home environment doesn't have to be difficult or break the bank.
With that said, starting Montessori at home may seem overwhelming and that is why I am here to help! First things first, let's answer the question "What does it mean to bring Montessori into the home?"
Key Aspects of Montessori at Home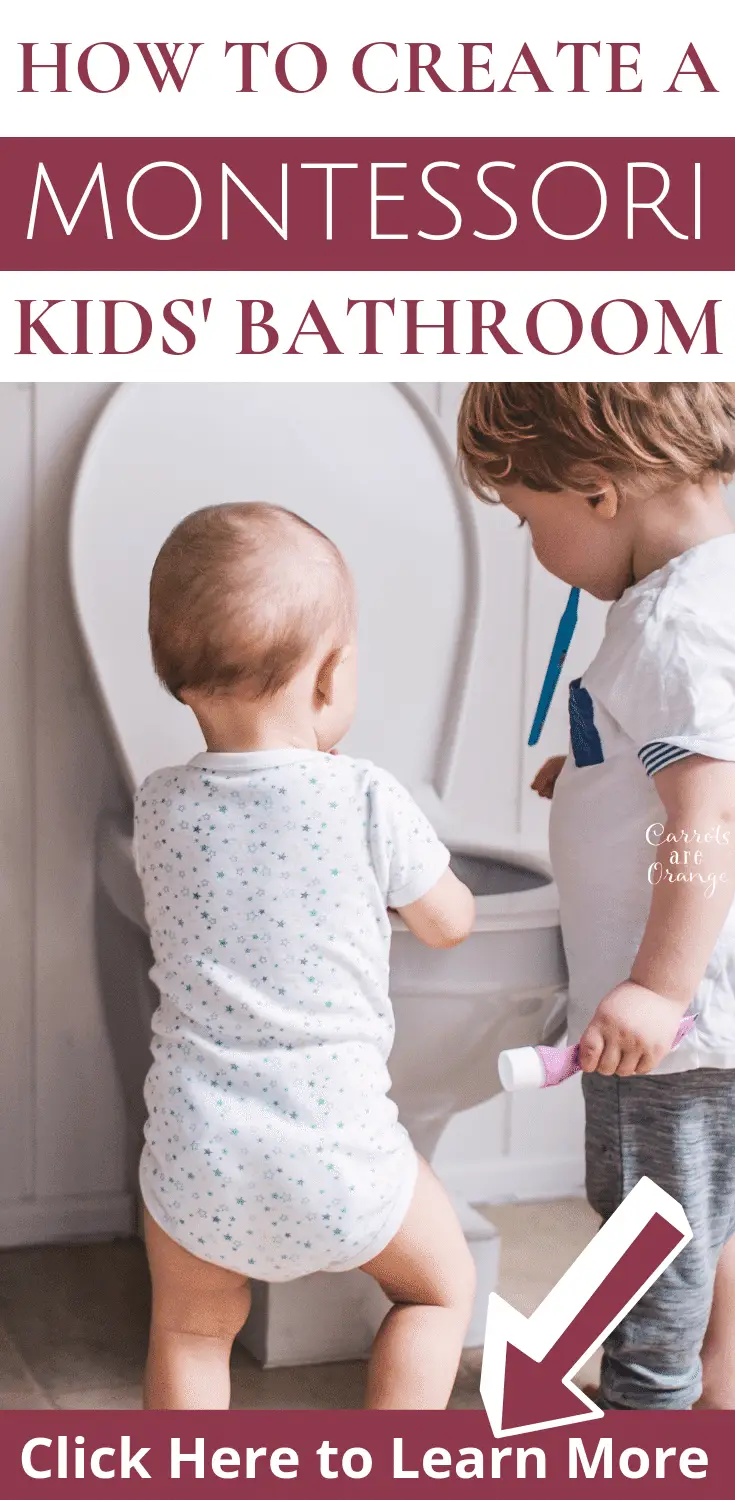 Related Read: See How to Create a Beautiful Montessori Bedroom
Tips to Help Create the Perfect Montessori Bathroom
Child-Sized Fixtures: Make the bathroom accessible to children by incorporating child-sized fixtures. Install a low sink or a step stool to help children reach the sink comfortably. Place a step stool or a small bench near the toilet for easy access.
Child-Friendly Toilet Training: If you have a toddler who is in the process of toilet training, consider using a child-sized toilet seat insert. This helps them feel more secure and independent during the transition.
Low Hooks and Towel Bars: Install low hooks or towel bars within reach of your child. This allows them to hang and retrieve their towels and clothing independently.
Non-Slip Mats: Place non-slip mats on the bathroom floor to ensure safety and prevent slips and falls. Opt for mats with natural materials like rubber or bamboo.
Accessible Storage: Provide accessible storage solutions for your child's toiletries, such as toothbrushes, toothpaste, and soap. Use low shelves or baskets that they can reach easily. This encourages independence and responsibility for their personal care.
Child-Friendly Toiletries: Choose child-friendly toiletries that are safe and appropriate for your child's age. Consider natural and non-toxic options whenever possible. Use labeled containers or picture cues to help children identify their personal care items.
Step-by-Step Visual Guides: Create visual guides with step-by-step instructions for tasks like handwashing or toothbrushing. Use pictures or simple drawings to illustrate the sequence of actions. This helps children develop independence and follow a routine.
Child-Accessible Mirrors: Hang a low-level mirror or provide a handheld mirror for your child to see themselves while washing their face or brushing their teeth. This helps them develop self-awareness and promotes personal care skills.
Engaging Decor: Make the bathroom inviting and engaging by incorporating age-appropriate decor. Hang colorful artwork or pictures related to personal care routines, hygiene, or nature. This creates a positive and engaging atmosphere for your child.
Safety Precautions: Ensure that the bathroom is childproofed and free from potential hazards. Secure cabinets and drawers with childproof locks, keep cleaning supplies out of reach, and cover electrical outlets if necessary.
How to Create a Montessori Bathroom
The "2 step" is key for a growing child. I found that the one-step stools, although a step in the right direction, don't quite do the trick. My son still had to reach for the faucet or soap to get the job done.
The two-step allows for the child to grow into the one-step stool.
I love this bathroom storage organizer for a child's bathroom for a few reasons. First, it is colorful and simple. Next, it allows for multiple kids' gear.
This artwork is perfect to add to a child's Montessori bathroom area. The prints serve as great reminders, too! I love the bright colors and fun font.
Faucet extenders are a key component of a child's Montessori bathroom and one Montessori at Home product that I have touted in the past and continue to do so!
The same goes for the light switch extender. Perhaps THE easiest item to add to your home, the light switch extender packs a big punch and helps the child develop independence and confidence.
I recently added nail brushes to our bathrooms. It is as though my boys dig their fingers into dirt all day long.
In addition to developing a nail cutting routine, the nail brush helps a ton to keep little fingers clean not to mention it harkens back to Montessori's traditional handwashing lesson.
This dispenser is adorable and inviting to any child. Honestly, I prefer touchless soap dispensers for obvious reasons. Plus they're great for adults & kids. How can you pass this frog soap dispenser up?
A great way for a child to learn to clean his face is by using a mirror and fun & colorful washcloths. If you can't get the wall mirror to be at eye level, offer a stool or a hand-held mirror for the child to use.
I have three boys and I encourage them to clean up after themselves on a daily basis. I personally like Mrs. Meyer's cleaning products. We keep toilet bowl cleaner, cleaning wipes, and multi-surface cleaner in the bathroom cabinet for the boys to use.
Additional Montessori at Home Resources
Related Reads: More Montessori Home