With every new month comes new inspiration. Here are a few easy Montessori spring shelf ideas. I like to rotate work out of my boys' Montessori room fairly often.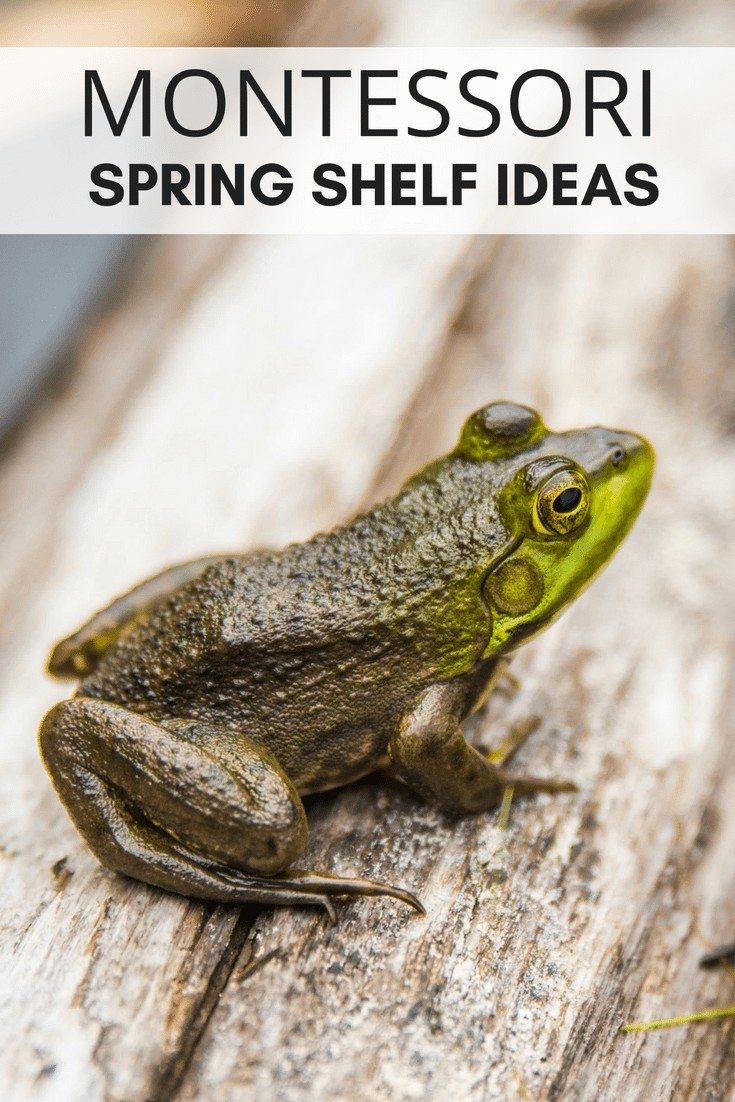 Here are a few of the new materials in their learning area.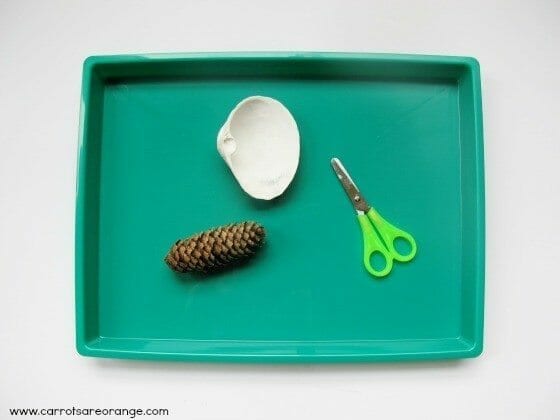 The idea for this tray actually came from my 3.5 year old. We had a few nature items around his play area. I watched him walk over to his cabinet to retrieve his scissors. Then he began clipping the pine cone intently. I saw the shell and thought it'd be the perfect vessel to catch the scraps.  Aims include fine motor skills. Indirect aims include writing.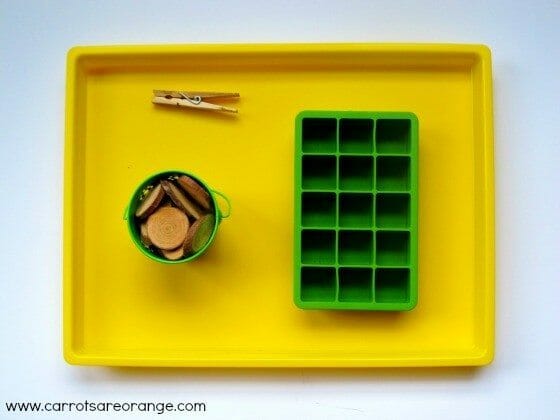 I saw this wood chips on a recent trip to Lakeshore Learning and had to go for them. Quite simply placed in a green mini pail, the approach requires using the clothespin to transfer the chips to the Tivolo ice cube tray.  Aims include fine motor skills. Indirect aims include pre-math with counting and sorting opportunities.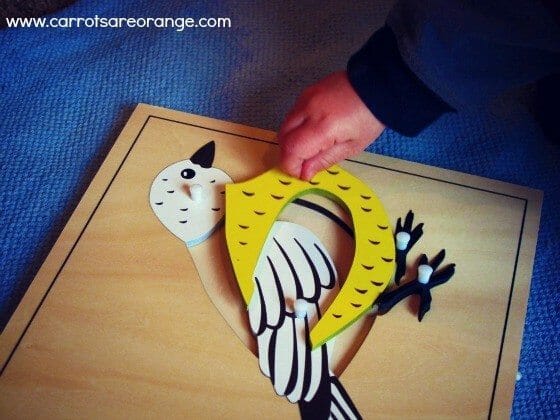 So thrilled to receive our Botany and Zoology puzzles. I purchased these Montessori Zoology Puzzles
from Amazon. So they are not from an "authentic" Montessori company but I am really impressed with them. My sons enjoy them. My 2 year old immediately took to them. Watching my 3.5 year old give his younger brother a lesson on the puzzles was heartwarming. He even including taking out, rolling and putting away the work mats. Sigh.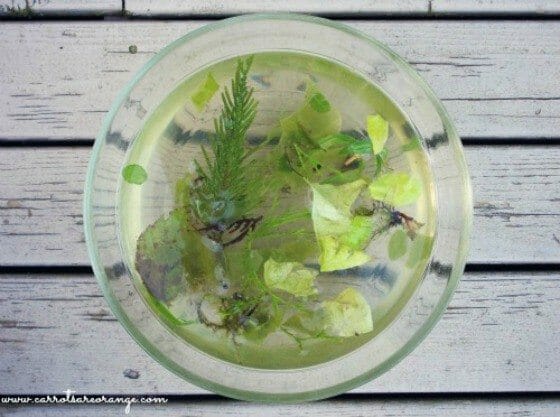 Our observation of the Life cycle of a Frog continues this week. It has been about two weeks since we cultivated our little home for the eggs, then tadpoles and now almost polliwogs. The boys are thrilled with the observation. It is exciting for them (and for me too). Other materials we used in learning about the life cycle of frogs include Insect Lore's Frog Life Cycle Replicas
, this really cool Tadpole/Frog Reversable Puppet
and several books including National Geographic Readers: Frogs!
.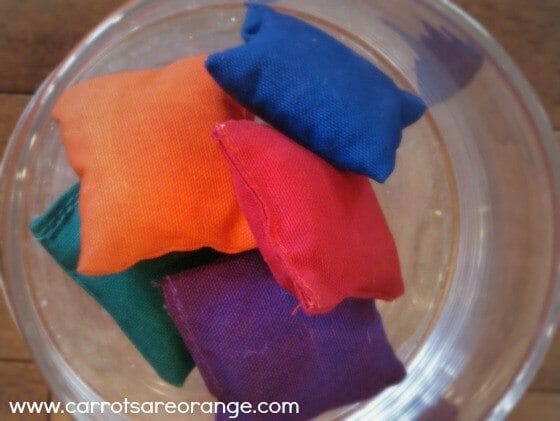 I bought Mini Bean Bags
. I am excited for this material because it is so versatile. We worked on gross motor and eye hand coordination by tossing into a vase. I also drew shapes on the floor with painter's tape and we took turns tossing the bags into various shapes. This learning is a lot of fun and involves movement. So, I love it.
"To assist a child we must provide him with an environment which will enable him to develop freely."
Thanks for visiting today.
Marnie
Subscribe Today!
Join over 16,000 parents & educators receiving a weekly dose of Montessori learning, inspiration, parenting love. I promise not to spam you because I am awesome (and clearly so are YOU).
Print this FREE Poster: 10 Ways to Improve Communication with Your Child.
Print out this
free parenting cheatsheet
and place it somewhere you see every day.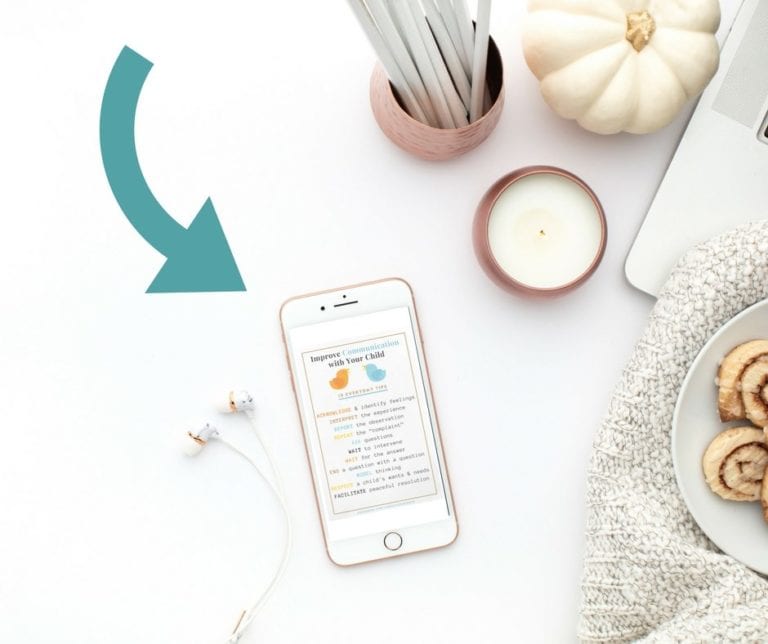 Download Your Free Printable
Download the cheatsheet. You'll get the cheatsheet, plus join 16,000+ parents & teachers who receive my parenting tips and ideas!
Print. Any paper will do the trick, but card stock would be ideal.
Place this cheatsheet in a place you'll see it several times a day.