"Mom, I did it! I made it all the way up the hill without stopping!" My five year old exclaimed with an air of confidence I had never seen in him.
Our bike ride to the coffee shop had been a success. I ran along side the strong little bikers and we made it. I looked at him smiling, so proud of how far he has come in the past year.
The warm gaze on my son, my son who struggled the last two years with sensory integration challenges, shifted suddenly when I heard: "You know, he almost hit me."
She was in her 70s, at least, using a walker to move her body from the grocery store down the sidewalk.
My son walked up to me.
I helped unbuckle his finicky helmet.
I responded to her, "Oh, I'm so sorry. That must have been scary for you. I will speak with him."
I was impressed with my ability to shift my focus so abruptly. If only she knew the struggles we had only recently began to overcome, maybe she wouldn't knock us down. Please, don't knock us down. I thought to myself.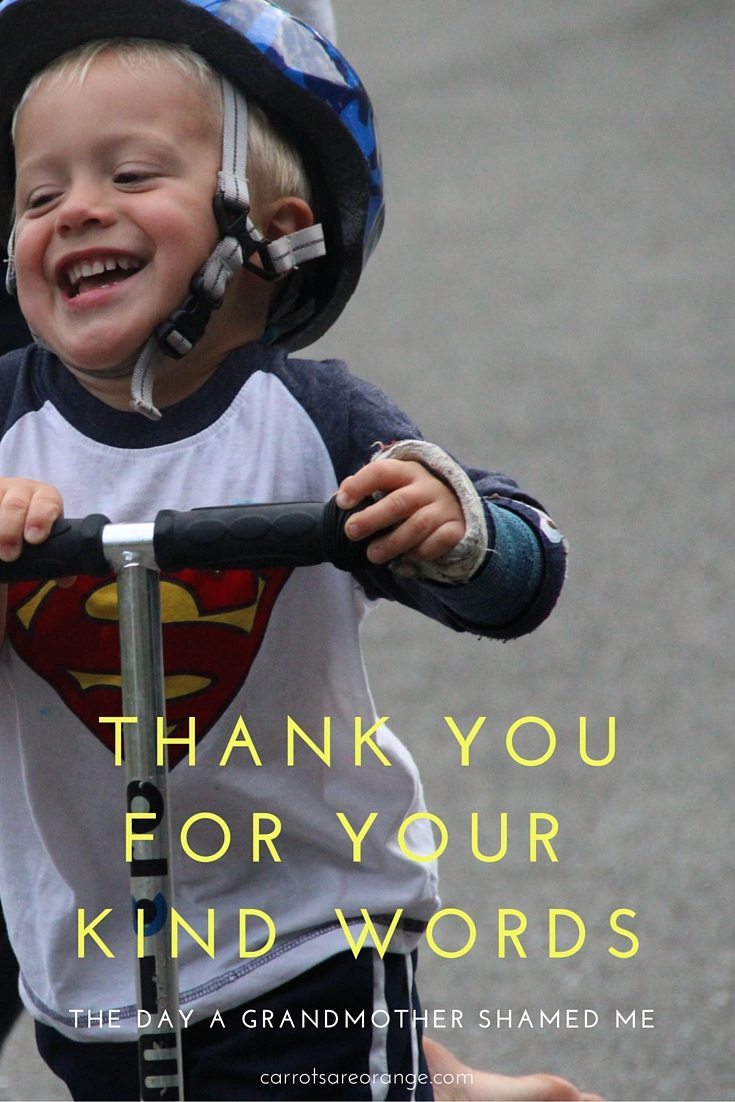 Shaming by a Grandmother
Here's the thing: I didn't have to speak with my son because he was RIGHT there holding onto my leg listening.
"No one was watching him."
She wasn't done.
I looked at her trying to her know that I 'got it', my eyes were pleading with her to stop.  I needed that moment to pass.
"Ok, thank you," I fought to end the moment as I shuffled my five and six year olds towards the door.
"YOU should have been watching him." She stabbed into the open air making certain I felt the sting.
Ouch.
Truth: I was watching him. I couldn't take my eyes off from my sons on that bike ride, for lots of reasons. I saw him come too close to her. I saw her flinch. I saw him notice her a bit too late but maneuver his way so as not to hit her. None of that mattered though, not to her. 
I looked at her again, nodded, and made my way into the cafe.
We settled at a table, then headed to the counter. I noticed the older woman in line at the counter when I felt my son's finger poking at my waist.
"Mama, was that woman mad because I almost hit her with my bike?"  He inquired genuinely.