One of the most remarkable things I observed about my sons' Nature Immersion camp was that there were no books, no toys, no art supplies…there was nature. That is all the children needed…The teacher allowed the children to lead with their interests and used her extraordinary knowledge of plants, animals and the earth to create the most phenomenal experience for children I have ever witnessed.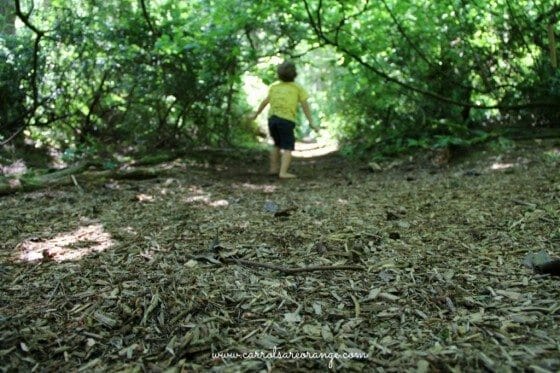 So, try it, go on a walk, outside. Freaked out? Yeah, me too. Having faith in leaving home with your children without any plans or "things" scares me.
Here are a few ideas:
Nibble like deer on cedar (it tastes good)
Pick berries
Play 'what's Missing?' With objects from nature
Create a maze, labyrinth or spiral from objects in nature
Roll down a hill
Stare at the clouds
Tell stories
Find a sit spot
Sing songs
Create a home in the outdoors: have your child make their beds, identify a kitchen
Make a campfire from sticks and leaves
Find a bear cave
Find a hill for sliding and a tree for climbing
Choose a favorite tree
Go to the library and seek reference guides to help you identify the plants and animals
Listen to the birds
Simply listen to the sounds of the outdoors
Play "hide and seek" with animal calls
Go barefoot
Find a dirt pile and dig
Build a tee pee with sticks
Go on a Thumbelina Walk: what do you see?
Take a close look at rocks: imagine the journey of that rock
Make a band with the trees, sticks and other objects around you.
Consider placing pony beads, yarn, chalk and glitter out on the trail so the child can decorate his walkway and his sit spot
Related Read: Rediscovering Your Happy Place with the Abundant Mama
Feeling inspired? Leave your ideas in a comment!
Marnie
Get Your Dose of Montessori Goodness
Directly & Seamlessly Delivered to You. Let me do all the work.