Holidays give added meaning to simple every day Montessori inspired activities. This St. Patrick's themed sorting activity is one example. We used a lei I picked up from Dollar Tree. The lei was made up of green and white fake (duh) flowers. I took the lei apart by cutting the string and sliding the flowers off. I grabbed a small basket, small tongs and two containers for placing the flowers.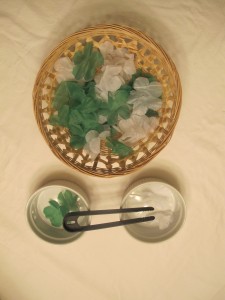 I presented the activity by explaining each item to my son and then demonstrating how to use the tongs to pick up and drop the flowers. I left the sorting up to him. Easy, inexpensive and festive. That's a perfect activity in my book!
Thanks for visiting!
Marnie
Get Your Dose of Montessori Goodness
Directly & Seamlessly Delivered to You. Let me do all the work.