On most days, I like to have a few activities laid out for my 27 month old to greet him in the morning. One morning last week, I had quite honestly three minutes to prepare something for him. So I grabbed the blue painters tape I eyed on the counter and built a road. By the time I was done creating this magnificent road around our living area, my little guy was as expected standing by me asking, 'what's that mama?' and then answering for himself, 'it's a road!' I added short dotted lines to mark the center of the road and off he went playing and imagining a world where giraffes, dinosaurs, cars and trains marched on the same path. Very entertaining. We even added tunnels with his stools and a garage with an old wipes bin.
You don't need fancy toys to provide your child with great fun and an exercise that aids in development of language and fine motor skills. So, don't fret about creating something time consuming and "out of this world" for your child's activity. Step back, look around your home and watch the beauty of a toddler and a few household items.  With imagination running wild you will delight in the experience.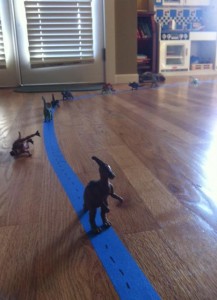 What we used:
Blue painters tape
Black permanent markers
Trains
Matchbox cars
Legos
A stool
Small figurines of dinos and animals
–
Thanks for stopping by…
Marnie
I linked this post up at: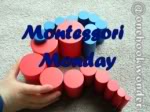 Subscribe Today!
Join over 16,000 parents & educators receiving a weekly dose of Montessori learning, inspiration, parenting love. I promise not to spam you because I am awesome (and clearly so are YOU).
Print this FREE Poster: 10 Ways to Improve Communication with Your Child.
Print out this
free parenting cheatsheet
and place it somewhere you see every day.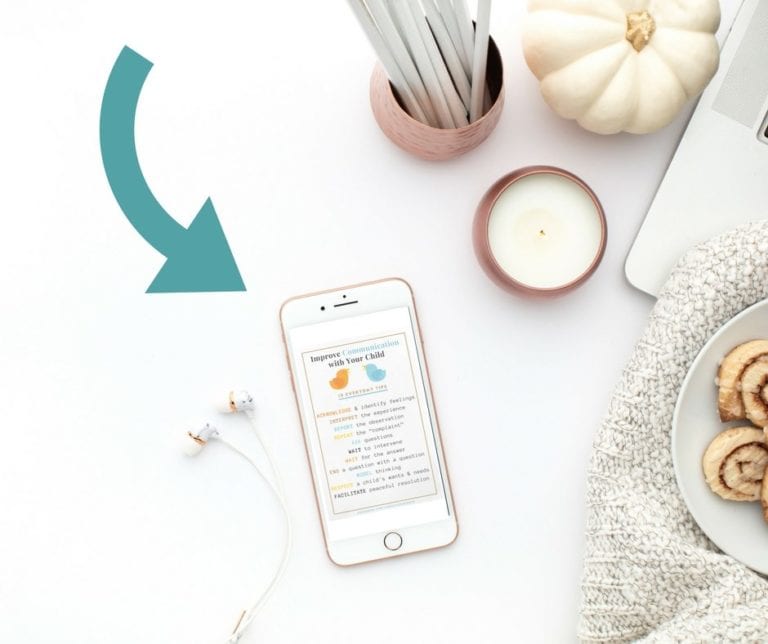 Download Your Free Printable
Download the cheatsheet. You'll get the cheatsheet, plus join 16,000+ parents & teachers who receive my parenting tips and ideas!
Print. Any paper will do the trick, but card stock would be ideal.
Place this cheatsheet in a place you'll see it several times a day.