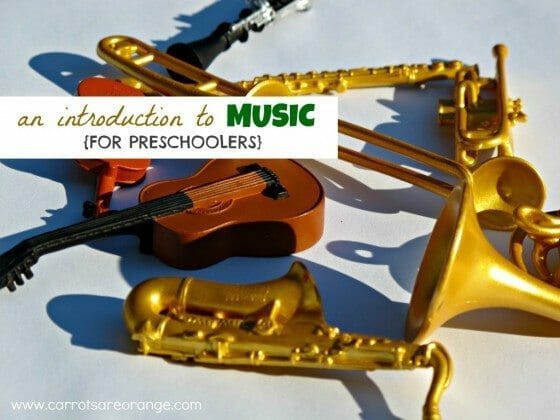 Lots of research has been published that shows why music is fundamental in early childhood education. Music is just as important to problem solving and logical skill development as math and language. Musical intelligence has been elevated by research and I am so happy because, well, music is fun and blends in well with play based learning and sensorial exercises.
We love listening to all kinds of music in our home but unfortunately neither my husband nor I play an instrument. So we have a lot to learn. I was thrilled when I discovered the Musical Instrument Safari Toob to help us teach our son. I am excited to share a way we used these mini instruments with my 3 year old was a listening activity.
My son immediately took to Safari's Musical Instruments Toob. We love Safari's replicas! I love them because they fit so well into so many of our learning activities. We've learned about the alphabet, math, storytelling and the world. My son loves them because, well, they are "super cool, mom!" (His words, not mine.)
I barely had the instruments out of the package when he was already exploring the mini instruments – the way they look and the way they play. I'll admit that he was a bit disappointed that the instruments didn't actually make sounds! We talked about as much as I knew about each of the instruments: violin, guitar, clarinet, flute, French horn, saxophone, trombone and horn. I showed him how the instruments basically worked and then he asked to hear the sounds. If I were musically inclined, I would have whipped out some beautiful classical tune that elegantly included each sound but alas I found a close second with a web page that included sound bites of each instrument, an introductory to music website called Begin Band.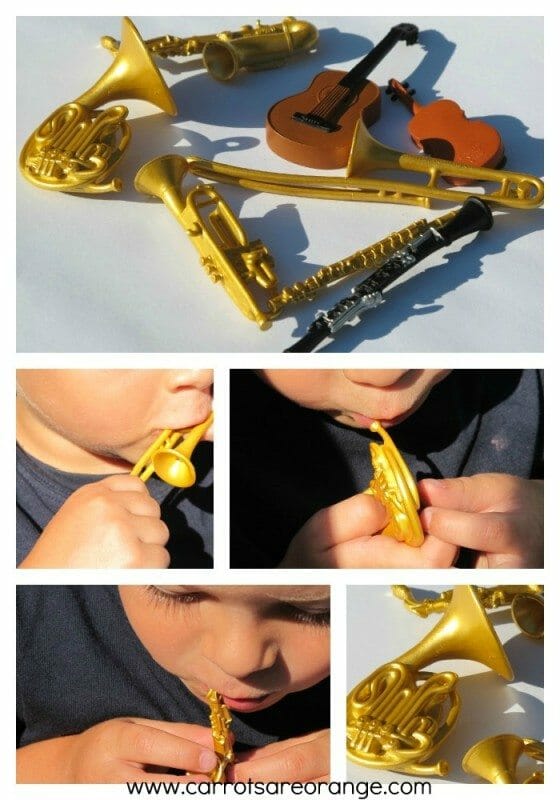 It was perfect. We went through each instrument. He listened so attentively, I was impressed and hadn't seen that kind of stillness in my preschooler for a while. Then I asked him to sit in a chair across from me and I randomly played the sounds and had him tell me which instrument by picking up the Safari figurine.
Since that rather organic experience I downloaded Musical Instrument Three Part Cards from Montessori Print Shop to add the element of language to the activity.
Here is a list of a few wonderful books to introduce music to children:
Sergei Prokofiev's Peter & the Wolf

If you liked this post, here is another post on Listening Activities based in the Montessori philosophy. Thank you for choosing to read this post today! Please share with your friends & consider signing up for our feed!
Marnie
This post is brought to you by Safari LTD, one of my lovely sponsors. Be good to them and go check out Safari's amazing products. You will be happy that you did it.
I shared this post on: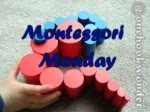 Download Raising Montessori
Subscribe to our email list & download the 75+ ways to Montessori parenting.