Looking for some fun outdoor games? Below is a select list of outdoor games for kids. I researched and vetted my sources and these games come out on top!
Why Playing Outdoors Matters
Richard Louv introduced the concept of Nature Deficit Disorder years ago. It is the idea that kids (and adults for that matter) are spending less time outdoors. As a result, kids' brains are developing differently (without the multi-sensory experiences and learning) and there is an increase in a wide range of behavioral problems such as ADD, ADHD, anxiety, and depression.
So, the conclusion is to get outdoors, play outdoors, and move our bodies in the fresh air. If we can achieve this goal, we'll all be happier and lead more balanced lives.
Fun and Easy Outdoor Games
These outdoor games for kids are creative, fun, and engaging! I can't choose our favorite – balancing gold balls or the watermelon card throw challenge! Seriously easy and so much fun!
This tree swing hooked me the moment I saw it! Not that a playground needs to be ANY more fun but why not mix it up a bit with an outdoor scavenger hunt?
Seriously, does it get any more exciting than a relay race? This relay race is particularly awesome because it involves water and my boys love water play! Large groups will enjoy this outdoor game! Divide kids up into two teams and let them race!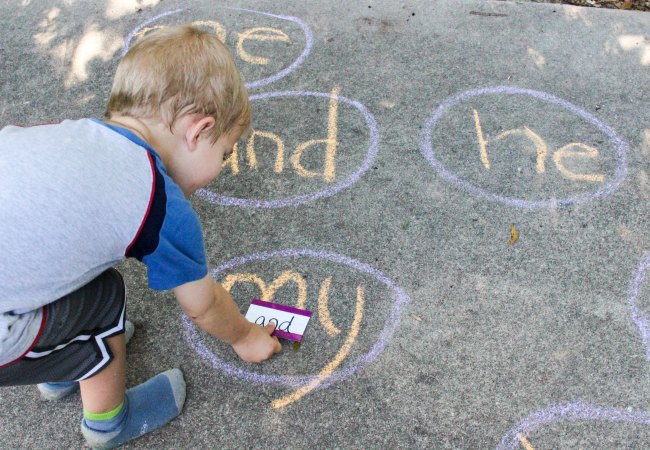 Easy and inexpensive, sidewalk chalk is the gift that keeps on giving. These sidewalk chalk games not only engage kids but teach them along the way.
Obstacle courses are a mainstay in our home. Work those gross motor and creative skills to build an outdoor course for kids to enjoy! Creating an obstacle course is a great option for an outdoor game for large groups.
We love leaf activities and this one takes the cake! Introduce toddlers and preschoolers to their letters while running around outside! Learning and movement go hand and hand with brain development. This outdoor activity is a great example.
This fun outdoor game might possibly win prizes for its simplicity. Kids go on a hunt for sticks, create their very own maze, and then walk the maze. There is so much fun with this outdoor game that kids might not even know they're exercising their problem-solving skills!
Again, not that a park needs any insertion of pure joy but why not mix it up a bit! Park Bingo is a sweet outdoor game for youth that packs a big punch!
Keep the element of surprise alive with a nature scavenger hunt! Go ahead and create your own list or borrow from others, there really is no limit to the creativity and imagination of a scavenger hunt!
I adore this list of outdoor pretend play games for kids!
This list includes 10 games to play outdoors at night!
What list of outdoor games for kids would be complete without a fairy hunt activity! This children's book is our absolute favorite book about imagining, building, and discovering fairy houses!
Check out these fun and easy ways to learn about patterns outside! Nature offers loads of patterns for us to explore and discover! Patterns are a great early reading and early math activity for young kids!
This simple game gets kids moving and helps them learn their colors. All you need for this activity are colorful cones and your loud voice!
List of Outdoor Games for Kids
Kick the Can
Kick the Can is a classic outdoor game for kids! It combines tag, hide and seek, and capture the flag. What could be better? A person or a team is "it" and must go kick a can that is placed in an open area without being tagged.
Rainbow Tag
Rainbow Tag is a new one for me but I love it! According to the Ultimate Camp Resource website, Rainbow tag is a game with "a designated area are different colors of paint in little cups with a Popsicle stick.
The children must run around, find the paint and put a stripe on their arm. The person who is 'it' has a sponge. When they tag someone, they wipe the paint off of their arm." This game is perfect for large groups.
Sack Races with Pillow Cases
Animal Hide and Seek
Animal Hide and Seek is a twist in your standard hide and seek game. However, in this version, each person adopts an animal sound and must call out that animal sound in order to eventually be found!
Helpful Resources for Outdoor Activities