This lacing activity is easy, fun and festive for preschoolers. Lacing is a great exercise to work on fine motor and practical life skills.
Gather your materials: a green lace, a print out of a shamrock or four leaf clover (these images are of our four leaf clover), a green marker or crayon (I don't have a colored printer or colored construction paper on hand but it also gives your child the opportunity to color if that works for you), scissors, paper hole punch and a piece of laminating paper.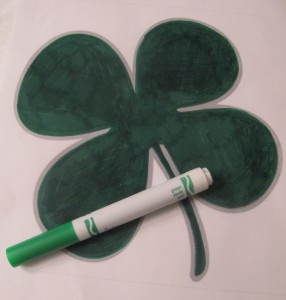 Our Green Shamrock
Our Laminated Green Four Leaf Clover
Cut out the laminated shamrock
Punch holes along the border of the shamrock or four leaf clover
The Green Shamrock ready for lacing
Fun and easy!
Thanks for visiting! Come back soon!
Marnie
P.S. My friend, Dayna, recently opened up her FREE Behavior Workshop. It only happens twice a year. You don't want to miss out. Trust me. Learn more and join here...
The FREE Behavior Workshop.