I often receive emails from readers asking about ways to help guide children to writing skills without shoving a pencil or crayons in their little hands. Working fine motor skills is important but fine motor activities for infants and toddlers can be loads of fun, too. Not to mention these pre-writing skills activities are more often than not simple to put together and relatively inexpensive. Ahh, two of my favorite things.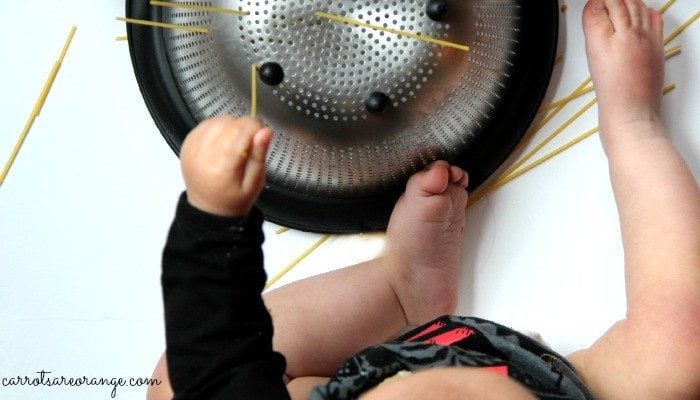 Fine Motor Activities for Infants and Toddlers

Fine Motor Activity Materials
Raw spaghetti
Strainer

Fine Motor Activity Approach
Set out the raw spaghetti and strainer
Invite your child to the activity or allow him to discover it on his own
Observe
Why is this fine motor activity so great?
Fun AND works pre-writing skills
Requires a bit of focus and concentration
Kids love working with pasta
Spaghetti is interesting in itself. Watch the younger children break it. The sound and feel of the spaghetti breaking is intriguing to children.
Spans a wide age range. My almost six year old, four year old, and my eleven month old did this activity together feeding their own developmental stages and needs
Children can be creative with design (use colored pasta for even more creative fun!)
Have fun!
Marnie
Get Your Dose of Montessori Goodness
Directly & Seamlessly Delivered to You. Let me do all the work.