I don't care how creative you are…
…there comes a time when desperation calls during those colder, seemingly longer months over the winter and school breaks, especially when you have a strict technology rule like we do.
I love my kids dearly and I work hard to make space for them to be creative and use their imaginations but I also think carefully about how to structure our environment in a way that is conducive to this creativity.
Related: Have you signed up for the FREE 7 Day Indoor Activity Challenge?
Yup, you won't find me a "free range" parent. I believe, as a Montessorian especially, that kids need a lot of liberty within a well-planned environment no matter if at home, in the wilderness, or in the classroom. Don't get me wrong, I don't mean to plan out every tiny detail of materials and of time. What I mean is preparing yourself to be proactive rather than reactive and allowing your child to lead his learning and development in a safe and rich environment.
Make sense?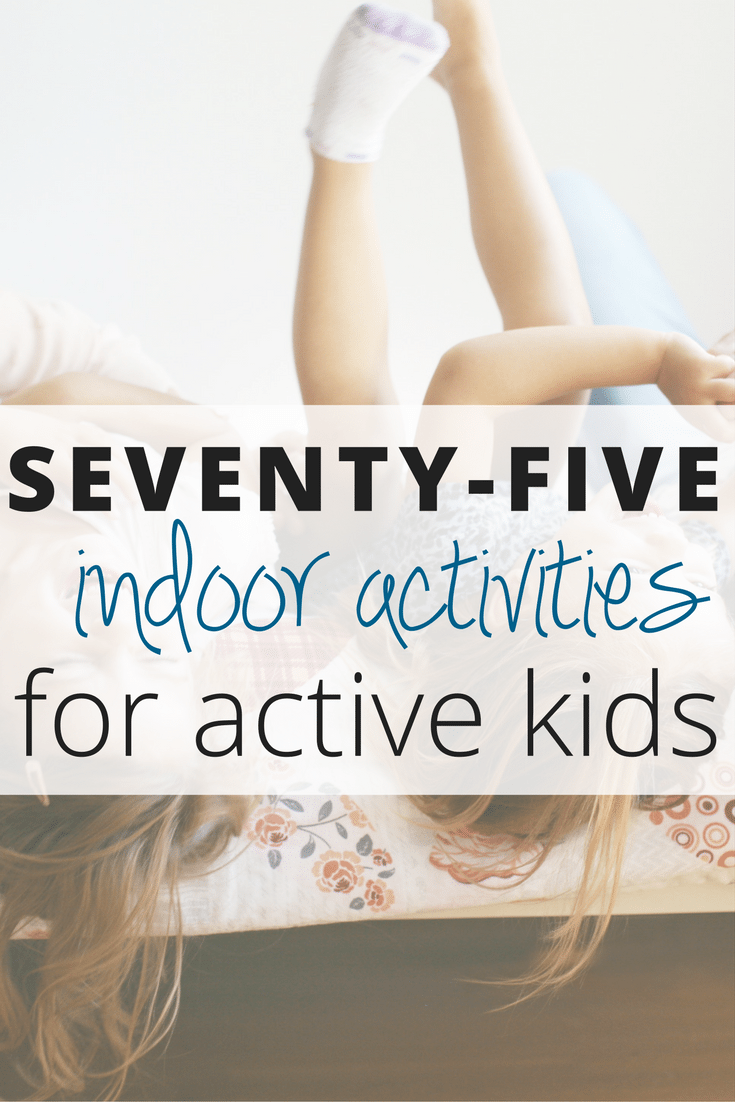 With that out of the way, allow me to be your muse, here is my ultimate list of easy indoor activities for kids!
The goal of these activities is to keep it simple and to keep it inexpensive.
Easy Indoor Activities for Kids to Keep the Brain & the Body Active
Use markers on the windows (gasp!)
Brain Breaks such as hopping on one foot while tapping your nose, swinging your arms left to right and back again

Cardboard Box Invention

Built a fort using pillows

Build a fort using blankets & chairs

Build a path of Pillows

Walk the Line

Build a spaceship from cardboard boxes

Build a reading nook with chairs, blankets, baskets of books, stuffed animals, and flashlights

Put on a play with stuffed animals

Workbooks but Not Really Workbooks (we LOVE these summer Brain Quest books for all year round!)

Drawing Center

Install a trapeze bar (okay, this one is not so simple but totally worth it!)
Challenging Puzzle (we LOVE these puzzles!)

Measure pulses & notice body temperatures by having the kids go outside run around the house as fast they can and come back in…

Mini trampoline (or choose a bed to bounce!)
Set up an indoor obstacle course 
Set up a timed indoor obstacle course
Have the kids hop on one foot, jump up and down, spin, etc and then measure heart rates!
Fold & put away laundry (gasp!)
Go on an indoor color hunt
Go on a shape hunt
Go on a letter/sound hunt
Put on a play (write it and then act it out)
Dance party
Charades
Use a straw to blow a cotton ball across a "finish line"
Play limbo
Make an obstacle course or web with painters tape across a doorway
Create shapes on the floor and challenge kids to jump from one to another
Play balloon ping pong
Create a "long jump" with painters tape
Make a tape road for your vehicle lovers (by the way, this race track tape is SUPER cool!)
Indoor hopscotch
Put a balloon under the shirt and see if you and a partner can pop it
Put a balloon between your thighs and race
Cook with your kids
Play board games, especially ones like Twister!
Go on an indoor scavenger hunt
Army crawl
Go on an indoor listening walk
Use a blindfold to lead someone around the house
Play hide and seek with animal sounds
Make a mystery bag with objects from around the house
Create smelling bottles
Create sound bottles
Build a Kazoo
Create a Sound Bag
Watch a tv show without sound and make up your own words to go along with the story
Have an indoor snowball fight with extra large pom poms!
Use paper plates to "skate" or "slide" on the floor
Use a broken down box to "slide" down the stairs
Bring the snow indoors with Insta Snow
Blow bubbles in the below freezing weather
Throw hot water in the below freezing water
Have a tropical dress up party
Take shaving cream in the tub & let the kids go at it
Play basketball with a trash can or basket and bean bags
Create a map of your house
Hope you found this list useful!
Marnie
P.S. Don't forget to join the FREE 7 Day Indoor Activity Challenge!
---
---
Print this FREE Poster: 10 Ways to Improve Communication with Your Child.
Print out this
free parenting cheatsheet
and place it somewhere you see every day.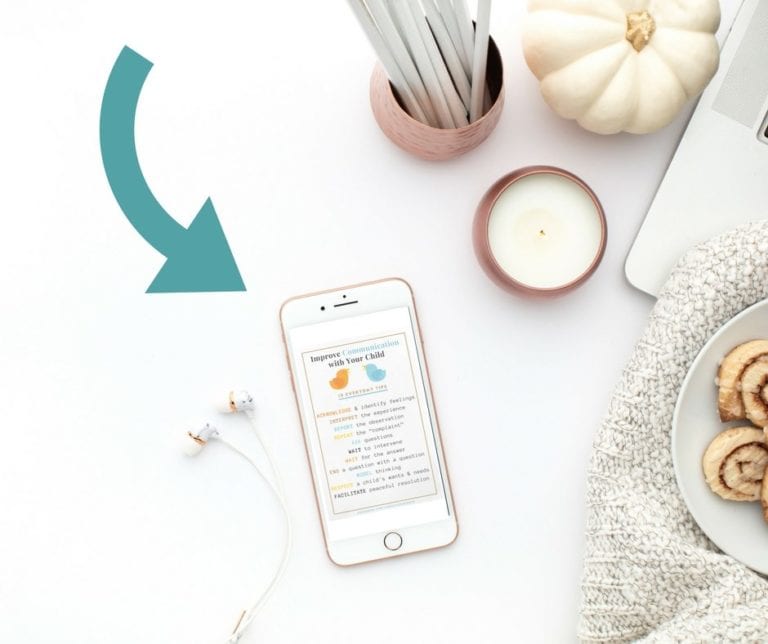 Download Your Free Printable
Download the cheatsheet. You'll get the cheatsheet, plus join 16,000+ parents & teachers who receive my parenting tips and ideas!
Print. Any paper will do the trick, but card stock would be ideal.
Place this cheatsheet in a place you'll see it several times a day.
---